NASA's Gateway is an outpost that will orbit the Moon and serve as a way station for astronauts on their way to the Moon and, in future, for other deep space missions,e.g. to Mars. It is a part of NASA Artemis that aims to land the first woman and the first person of color on the Moon.
NASA's Gateway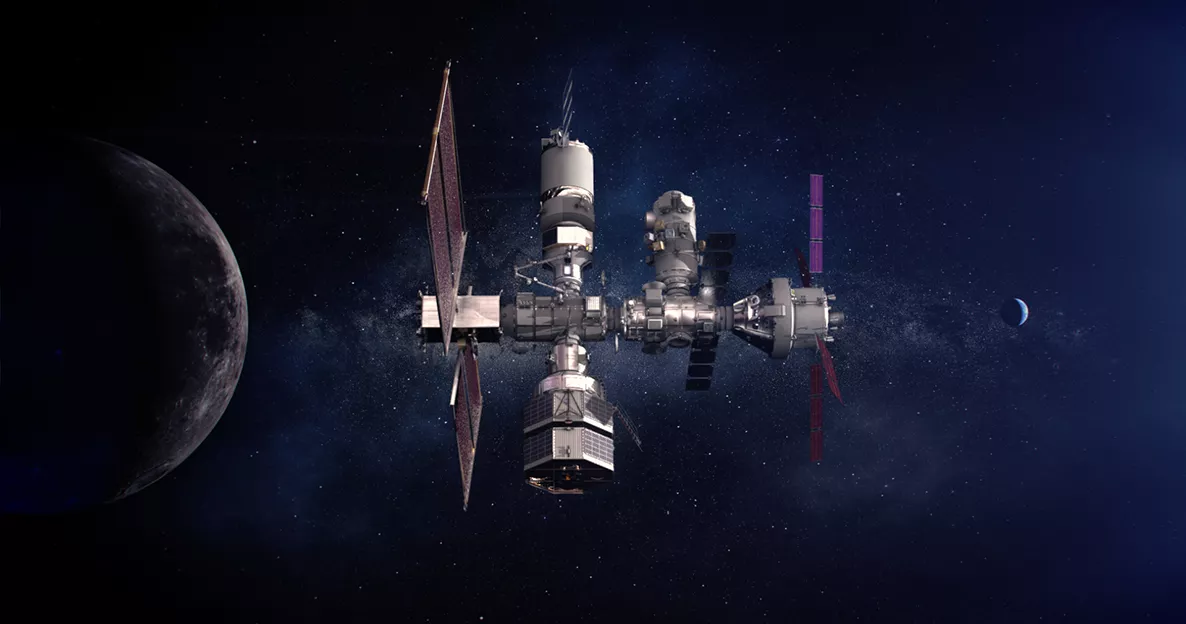 The Gateway is made up of several modules, built by NASA, its commercial partners, as well as its international space agency partners (ESA, JAXA, CSA). In such a large project, where a large ecosystem of institutions and companies work together, modularity and scalability are key to save cost and reduce complexity in spacecraft avionics. To ensure seamless data transfer and connectivity of the Gateway modules, NASA and their international space agency partners have baselined the Time-Triggered Ethernet networking technology based on the open standards Ethernet IEEE 802.3, ARINC 664 and SAE AS6802 in the "International Avionics System Interoperability Standards" (IASIS) for deep space avionics applications.
The space sector has a visionary mission and is an extremely challenging field. Reliability and fault-tolerance are key when it comes to safety-critical missions with humans on board.
Integrated, modular, and scalable data network for space
TTEthernet® is used as the Gateway's avionics backbone network and acts as the 'central nervous system' of the space station/spacecraft. It will enable ultra-reliable high-speed data communication, not only within the individual modules, but also between the elements of Gateway and docking spacecraft and/or landing systems. Built-in dual fault tolerance is one of the key features to achieve a significantly higher safety level and a fail-operational system.
TTTech Aerospace and its space hardware design and manufacturing partner Beyond Gravity have joined forces and developed COTS products/systems that can be integrated into a hosting unit by customers. These are already being used for two of Gateway's modules, Northrop Grumman's Habitation and Logistics Outpost (HALO) and Maxar Technologies' Power and Propulsion Element (PPE).
Our TTEthernet® products have been designed to the highest space standards, always keeping scalable, safety-critical, high-performance spacecraft avionics systems in mind. The related products are available in different quality levels to support the entire development process during spacecraft design and integration. This approach allows a cost-efficient and technically straight forward development.
Introducing NASA's Gateway
TTEthernet® products used in the Gateway
We will supply products for the entire development process:
EDU (engineering model for development and functional verification)
PROTO (populated with qualifiable engineering units)
FLIGHT (qualified units for flight use in deep space)
Customers can start with the EDU version offering the full functionality for evaluation or in the development phase and seamlessly move to the PROTO version to be fully form-fit and function compatible with the final FLIGHT version.