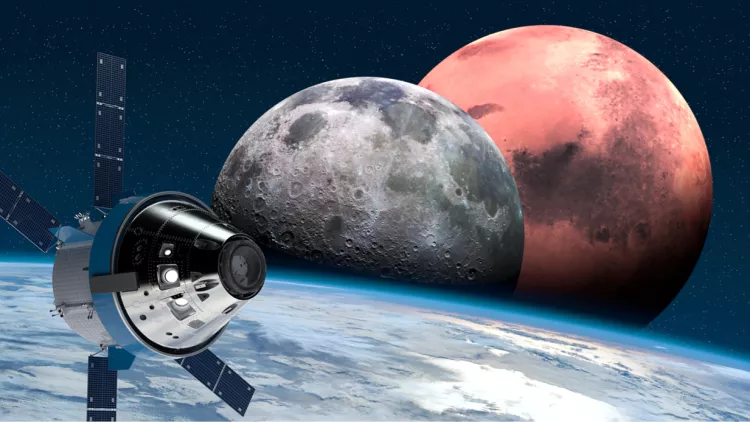 Building products for space is extremely challenging. The products need to withstand harsh environments including extreme temperatures, shock, and radiation – and they need to operate for many years without maintenance. Therefore, lots of development and testing effort is needed to mature these products before they can be released to the industry and integrated into a spacecraft. The Austrian Ministry of Climate Action (BMK) and the Austrian Research Promotion Agency (FFG) are supporting Austrian companies in early research and development of such crucial components, enabling Austrian technology to be incorporated into international space agency missions.
One of these missions is the international Gateway program, a space station in cislunar orbit. Apart from NASA, the European Space Agency (ESA), the Japan Aerospace Exploration Agency (JAXA), and the Canadian Space Agency (CSA) are contributing to this international program. The FFG's Aeronautics and Space Agency (ALR) represents Austria in the European Space Agency (ESA) and supports the participation of the Austrian space industry in such international programs. ESA Funding is generally provided by the Austrian Ministry of Climate Action (BMK).
Being commissioned by ESA for the comprehensive ESA GSTP activity "Elements of TTEthernet®-based Avionics" is essential for TTTech Aerospace and RUAG Space Austria for developing the key building blocks of a complete data networking solution for deep space based on open standards. The development partly funded by this GSTP activity aims for a modular and scalable platform required for the Gateway and future space missions. The first phase of this engineering activity will be completed in March 2022 and focuses on key requirements for the main building blocks. The second phase – currently under negotiation – will address the manufacturing and qualification of the "engineering models".
"We have been working closely with FFG/ALR for many years and the related ESA and national co-funding by BMK were crucial for us to make use of our core technology and apply it for the use in space, starting with the development of the network building blocks for the Ariane 6 launcher and securing the first contracts for Gateway. We are very excited that our networking solution, which is being qualified in an ESA GSTP activity, is used in such a prestigious international program. These are some of the largest contracts Austrian space companies have ever received from US companies and would have never been possible without the support from the Austrian government and FFG/ALR," explains Christian Fidi, Senior Vice President Business Unit Aerospace, TTTech.
The space hardware for the Gateway will be designed and produced by RUAG Space in Vienna. "Based on our three decades of experience in designing and manufacturing space-qualified equipment we can provide off-the-shelf hardware solutions that use open standards. This helps to reduce time-to-market and reduces system complexity," says Manfred Sust, Managing Director at RUAG Space Austria.
"One goal of the Austrian Space Strategy 2030+ (People, Climate, Economy – Space is for everyone) is to strengthen business by supporting research, development, and innovation efforts. This helps creating sustainable high-tech jobs in Austrian industry. The Gateway is a prestigious international space program, and we are delighted that TTTech Aerospace and RUAG Space Austria are on board, working with both NASA and ESA prime contractors," comments Dr. Andreas Geisler, Head of Aeronautics and Space Agency (ALR) at the Austrian Research Promotion Agency (FFG).
ESA contracts for the European modules of the Gateway (second habitat and refueling module) are expected to be placed in 2022 and a European lunar lander may be added to the program in 2023.
Find out more: