October 19, 2010
TTControl, a joint-venture company of TTTech Computertechnik AG and Hydac International GmbH specializing in robust and flexible control systems and intelligent displays for mobile working machines and special vehicles, is launching the first two members of the Vision product family. These intelligent monitors are setting new standards with respect to maximum resolution, programmability with CoDeSys® 3.x, and user-friendliness, for example through the ability to display PDF® documents.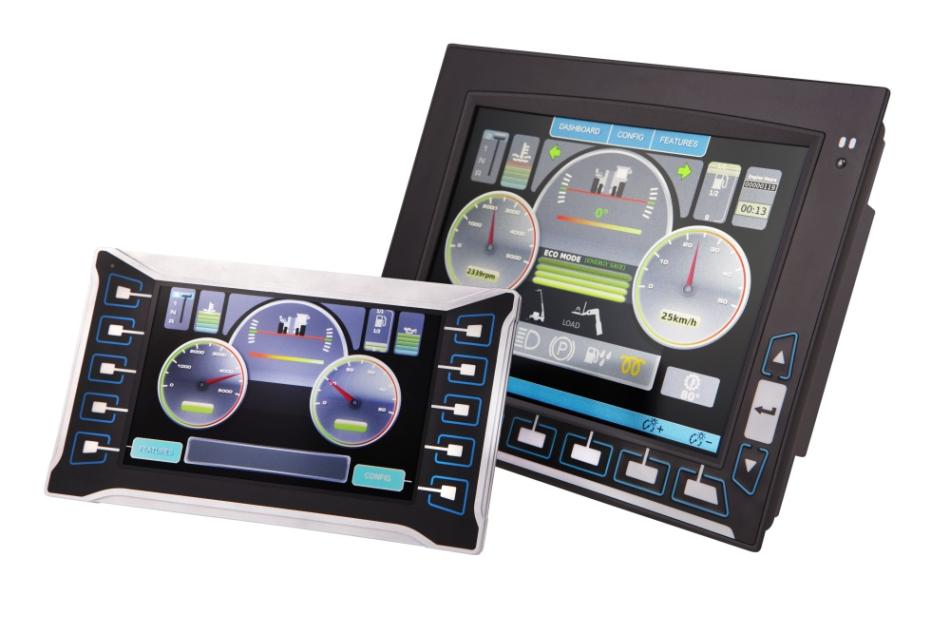 Vision²
The modularly designed new monitors are currently being released in two main versions, a large 10.4-inch variant with a touchscreen, and a smaller 7-inch version. Both are highly robust, and have an extraordinarily fast boot-up time - from power-on it takes an average of 10 seconds for the display to be ready to use. The operator has the advantage of a very fast display with high resolution up to HD. This allows the design of very clearly laid out displays whose ergonomics, thanks to hardware acceleration, can be further increased using 3D effects. With the built-in
USB port, operating data can easily be transported, just as new application software can be installed.
The new platform is also scalable. Graphical elements that were developed for a VGA display can, for example, easily be scaled up to XGA resolution, and thus continue to be used. A picture-in-picture function enables the software controlled superimposition of a camera image onto the cockpit. The window size is freely configurable, and an overlay effect is possible, too. Another function enables not just the display of documents in the widely used PDF format, but also to move freely within them, zooming in and out. The easy-to-use programming platform CoDeSys 3.x with specific additions, such as transparency effects, is part of the standard package. It offers vehicle manufacturers plenty of freedom with respect to usability and ergonomics of their HMI design.
"Many of our customers want a single supplier for electronic control and operator interface. Since the recent expansion of our portfolio of control units, we have now turned our attention to strengthening our range of displays. By optimally matching the control panels to the control units, vehicle manufacturers benefit from reduced development time and simplified maintenance", says Marc Weissengruber, managing director of TTControl about the launch of the new monitors. "Our display controller provides so much computing power that, besides the pure display functions, it can take over control functions or the role of a CAN gateway." In addition to multiple CAN channels and Ethernet, an integrated GPS module or GSM modem is part of the Vision's extended standard equipment.