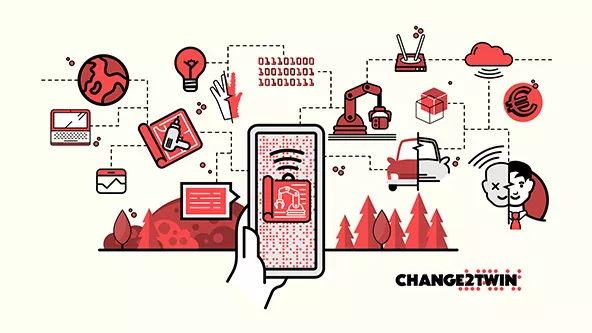 The EU project Change2Twin* was started two years ago with the goal of supporting small and medium sized enterprises (SMEs) in their digitalization journey. In a virtual kick-off event hosted by TTTech in March 2022, 11 companies that secured funding for their digital twin via the project's open call, discovered suitable technologies and met their mentors for the first time.
In today's manufacturing landscape, companies are looking for ways to digitize their production and to improve their processes and products. At the same time, implementing digitalization solutions can be a cost- and resource-intensive process, particularly for smaller companies. The aim of Change2Twin is to help create digital twins that replicate a product, process or service so accurately that its performance can be predicted and used as a basis for decision-making. Aside from supporting the companies themselves, it also gives a platform to technology providers for testing out their solutions in pilot projects for different digital twin use cases.
Francesca Flamigni, Innovation Projects and Funding Manager at TTTech explains: "There is not one standard digital twin solution for everyone. That is why the Change2Twin project has several deliverables. Firstly, we test technology for digital twins in pilot projects and publish our learnings in a catalogue of technologies for companies to choose the best solutions for their own business case. Secondly, the technology providers can expand their knowledge of digital twin and adapt their solutions better for this use case. Thirdly, we provide funding and guidance to SMEs selected in our open calls in 2020 and 2021 to help them conceptualize and implement their digital twins. This supports the digitalization and thus the competitiveness of the European manufacturing sector."
Digital twins are born
Change2Twin launched two open calls in 2021 to great demand. The "Assessment Voucher" provided successful companies with a lump sum of 10,000€ each to get support and funding to assess the potential for digital twins inside their companies. The "Deployment Voucher" on the other hand, offered funding of up to 90,000 € (lump sum), to cover the costs to deploy and implement technology and systems applicable to digital twins for manufacturing.
In a virtual kick-off event in March 2022, the Change2Twin consortium, technology partners and SMEs selected in the open calls discussed the conditions of the upcoming eleven-month deployment programme and started the digital twin implementation rounds. After a quick explanation of financial and reporting modalities, participants were given an overview of the technical solutions available in the Change2Twin consortium. The beneficiaries selected in the open call, then were matched with their mentors to discuss their projects individually.
Mentoring is provided by seven technical partners from the Change2Twin consortium, TTTech is one of them. Francesca Flamigni is the mentor of Salvagnini Austria, a machine builder from Ennsdorf in Upper Austria. She will guide and support the company through the process of creating their digital twin, finding the proper solution providers and complying with the conditions of the funding program.
For those who missed the first round, there is good news: There will be a second round of both open calls in 2022. Make sure you follow Change2Twin on their website and LinkedIn for more information, which is coming soon.
Pilot project – digital twin with Nerve for the packaging industry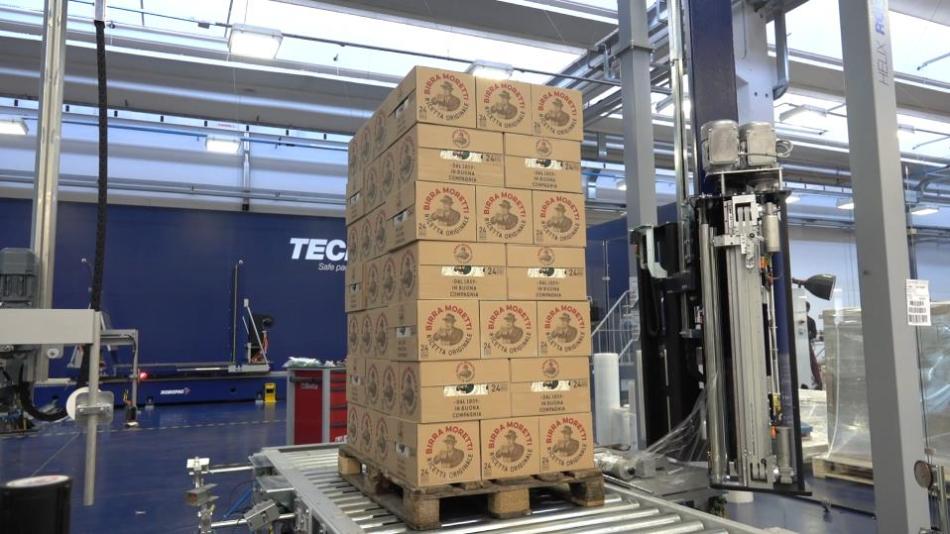 TTTech is a consortium partner in the Change2Twin project and TTTech Industrial contributes by providing its edge computing platform Nerve as one of the technologies enabling digital twins.
TTTech Industrial worked with packaging producer Robopac in one of the four Change2Twin pilot projects. Robopac wants to use the digital twin for the optimization of pallet load packaging to ensure stability and security, as well as reduce the amount of plastic packaging needed. In this case, the digital twin is a virtual model of the pallet load, created with assistance from the University of Bologna.
The physical behavior of the pallets during transport is analyzed experimentally, using a motion platform and other testing machines. The model is then used to calculate the amount of packaging materials needed and decide which material is best suited to the selected transport route. Users will be able to graphically depict the packaging cycle for the packaging machine and reduce the use of plastic film. Nerve is used in the pilot to collect and analyze data at the edge close to the end user, thus ensuring security and privacy of data. The 2D model will be run on Nerve as a virtual machine. Nerve management system will enable customers to update new packaging materials or products.
* Change2Twin has received funding from the European Union's Horizon 2020 Research and Innovation program under grant agreement No 951956.
Find out more: