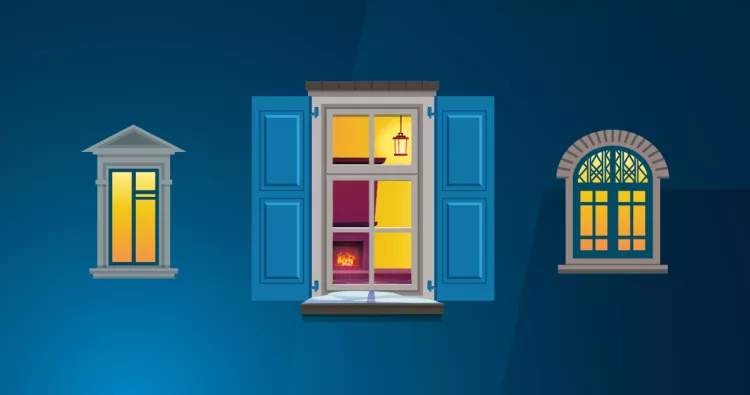 The end of the year is always a time of reflection and a time of sharing. Sharing the proceeds of our success with those in need, sharing our passion, sharing our energy – and sharing our light.
At TTTech we believe that everyone in the world should be able to light up their windows in celebration; everyone should have access to energy. So, this holiday season, TTTech is making a contribution to the organization atmosfair, which works to make clean, sustainable energy available in remote parts of the globe.
Find out more here.
TTTech Group: shared success
In 2022, TTTech Group businesses were able to achieve many successes and faced challenges head-on. To continue our sustainable growth story and focus on leveraging our strengths to expand our global reach, we will strengthen our management team. The internationally experienced top manager Werner Köstler will join the TTTech executive board as of January 1, 2023 as Chief Performance Officer (CPO).
A strong ecosystem is the basis of our success. In 2022 we have been fortunate to forge close ties, not only with our customers, partners, and suppliers, but also with vital public organizations in our home base Austria, like the Federation of Austrian Industries, the Vienna Science and Technology Fund, or the Vienna Chamber of Commerce and Industry. TTTech was also honored to join Microsoft Austria in a nationwide digital initiative for a more digital tomorrow.
Throughout 2022, TTTech was active in 27 innovation projects that are working to make the world a safer, more connected, more sustainable place. Our research highlights include projects on precision farming, digital twins, collaborative, sustainable mobility,  a concept to improve Europe's next generation satellite constellation, and many more.
TTTech strives to be one of the best high-tech companies to work for in Europe and was honored to be nominated for the prestigious HERMES Employer Branding Award in 2022. TTTech's employees are our most important stakeholders and experts in their own right. They are winning best-paper awards for their research, like Silviu Craciunas of TTTech Labs, or inspiring the next generation of female engineers as FEMtech Experts, like Anamarija Pejic of TTTech Aerospace.
---
TTTech Auto experiences continued growth
In 2022, TTTech Auto experienced continued growth. Dr. Dirk Linzmeier took over the role of CEO from Georg Kopetz and will guide the company on the next stage of its journey.
In February of this year, TTTech Auto received $285 million from Aptiv and Audi. With this latest round of funding and a valuation of more than $1 billion, TTTech Auto confirms its strong position amid a growing number of auto tech unicorns as a provider of series-proven safety solutions.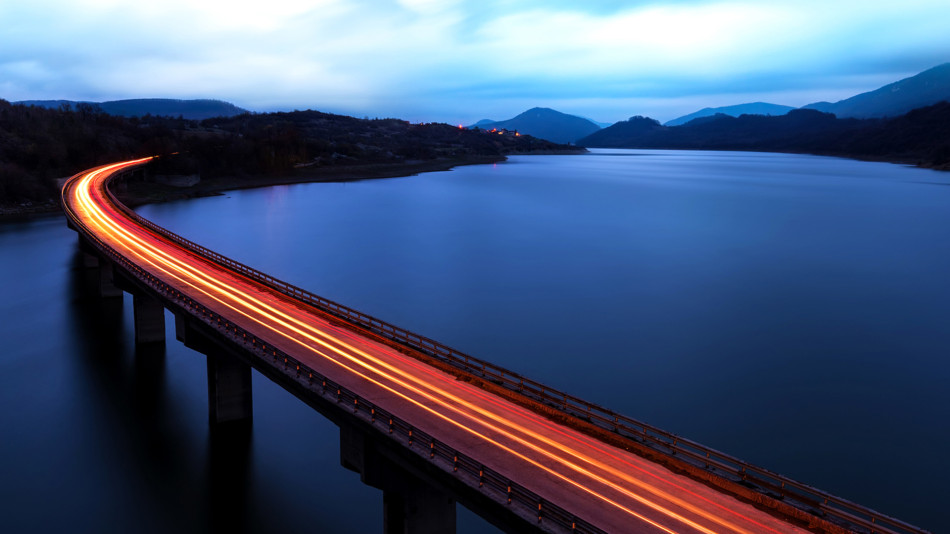 TTTech Auto and ZettaScale Technology announced their collaboration to provide state-of-the art communication technologies for software-defined vehicles. The initial product of this collaboration will be the first European implementation of a Data Distribution Service (OMG DDS) that is safety certified under ISO 26262 for use in production vehicles. The MotionWise Cyclone DDS network protocol will ensure safe and quality-assured real-time communications throughout the entire vehicle. The partnership includes an investment by TTTech Auto in ZettaScale Technology as part of TTTech Auto's inorganic growth strategy following its latest funding round.
Its successful expansion continues with and exclusive office in China and the opening of a new office in South Korea, where the company is building on a long-standing and successful relationship with a South Korean OEM that will deploy TTTech Auto's safe vehicle software platform, MotionWise, in series production and Tier 1 suppliers.
---
The Autonomous kicks off two new Working Groups
Guided by the motto ACT TO IMPACT, this year's The Autonomous Main Event was all about taking action and showcasing concrete steps to work together towards a common goal: overcoming the safety challenges facing the autonomous mobility revolution.
At its annual flagship event, which gathered in Vienna and virtually over 500 industry leaders and experts from 200 global companies, The Autonomous announced two new Working Groups, calling on major industry players to participate.
The two Working Groups will focus on Safety of Embedded AI and Safety & Regulation.
Led by Infineon, the Working Group Safety of Embedded AI aims at creating a common understanding of how to use AI safely for trajectory planning and control in automated driving.
The most recent Working Group Safety & Regulation kicked off under the direction of Regtech software company Kontrol and the renowned law firm PSWP, focusing on autonomous vehicle regulation and certification.
In parallel, the first Working Group on Safety & Architecture, established in June 2021, is now delivering initial results: "We worked together with industry participants on a conceptual architecture, in this case, a Level 4 highway pilot," said Working Group Chairman, Christoph Schulze. The next phase is the evaluation; Mr. Schulze encourages full ecosystem participation, "especially car manufacturers to bring in their requirements and thoughts concerning safe system architecture and design."
Watch here the highlights of The Autonomous Main Event 2022.
---
We are family: TTControl introduces the TTC 2030 and TTC 2300 ECU families
After 3,5 challenging years, more than 495,000 visitors from over 200 countries visited bauma 2022, the world's leading trade fair for construction machinery industries. There, TTControl introduced the new ECU family for construction and off-highway machinery and celebrated the TTC 2030 and TTC 2300 ECU families premiere.
The growing TTC 2000 series consists of compatible ECU families of different sizes, but they have one thing in common: They all use the same modular building blocks, ensuring that the right number of interfaces and the right amount of processing power is available for each mobile machine application.
This significantly reduces time-to-market and the maintenance for the vehicle manufacturer, enabling them to future-proof their machines. Furthermore, their robustness, high ingress protection rating and resistance to extreme temperatures – from -40 to +85°C – allows operators of construction machinery to fully rely on the functionality of the control units.
But there are even more great news: TTControl's application software development processes are ISO 26262 certified by TÜV Nord. Vehicles that use the application software developed by TTControl thus meet the process requirements for a high level of road safety up to Automotive Safety Integrity Level D (ASIL D). As a result, vehicle manufacturers now have to invest less time and effort in the certification process for mobile machinery, which significantly reduces time-to-market while improving software quality and safety.
Last but not least, TTControl is now participating in a collaboration with Ammann, PALFINGER, Prinoth and Rosenbauer on application-oriented solutions. These multinational companies share cross-market knowledge and development resources. Their aim is to accelerate the development of leading autonomy technology based on computer vision and artificial intelligence to make operating mobile machinery and off-highway applications more intuitive and efficient.
---
TTTech Industrial: Increased focus on industry 4.0 and smart manufacturing solutions across industries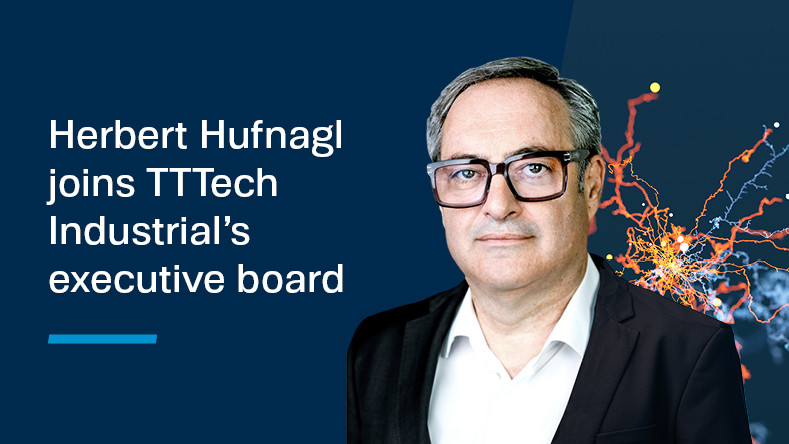 TTTech Industrial announced the appointment of Herbert Hufnagl as Member of the Executive Board and General Manager as of July 1, 2022.
He has over 25 years of experience in the field of industrial automation and the development of smart industrial solutions and will focus on strengthening the go-to-market activities for TTTech Industrial's open and modular edge computing platform Nerve.
Nerve – an open and modular IIoT solution for smart manufacturing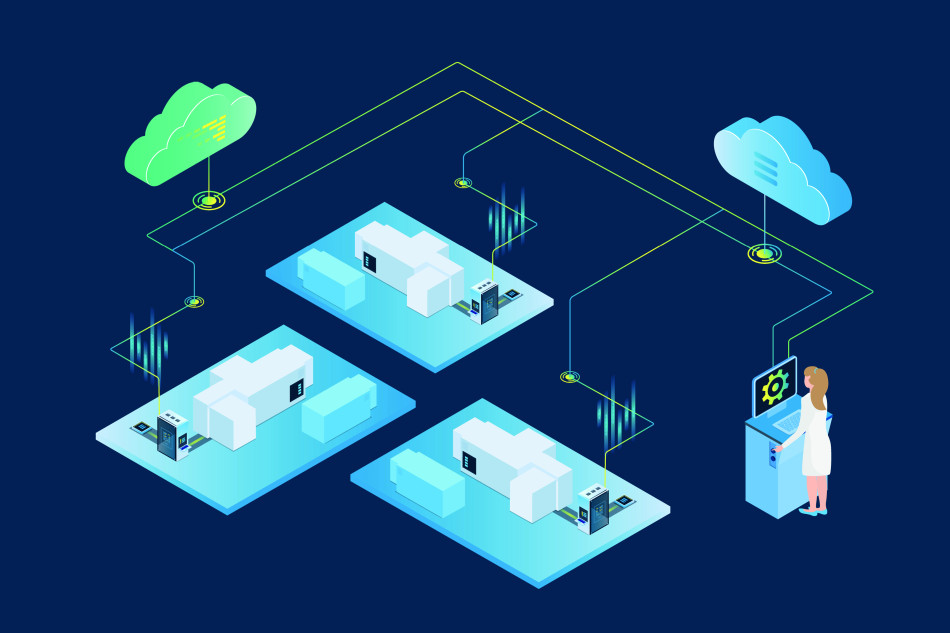 Nerve is an edge computing platform supporting smart manufacturing use cases like predictive maintenance, condition monitoring, remote services or digital twins. Nerve provides a software infrastructure for the plant floor and the cloud, enabling secure connection and management of industrial assets. The latest release, Nerve 2.5.0, considered feedback from customers and further optimized features and user experience.
Across the year, TTTech Industrial has released a series of technical whitepapers, technical articles, and case studies that showcase the wide range of applications for Nerve. These especially highlight the data management features and show how Nerve supports hardware virtualization and workload consolidation, helping customers to save costs and reduce complexity.
IIoT solutions for the energy industry
Digitalization in the energy sector allows more cost-efficient production of energy and supports predictive maintenance solutions that helps ensure system availability. Energy storage is also increasing in importance, particularly for the renewable energy sector. IIoT solutions for the energy industry are also part of TTTech Industrial's portfolio.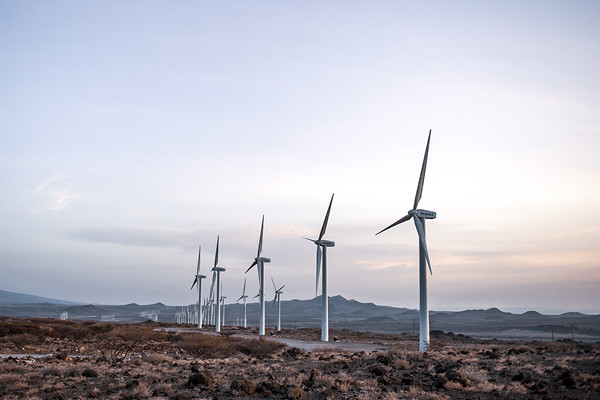 Vestas is one of the largest wind turbine manufacturers worldwide and has been working with TTTech Industrial for more than ten years. The successful partnership has resulted in more than 10,000 Vestas wind turbines using TTTech Industrial's distributed control system, including the world's first 15 MW wind turbine for offshore environments.
Edge computing platforms like Nerve can also be applied in the energy sector, for example to collect the data needed for condition monitoring and remote services. TTTech Industrial's recent whitepaper showed how GKN Hydrogen, an energy storage solutions provider, uses Nerve to enable real-time machine data access and offline operation and to improve software management.
---
TTTech Aerospace
Providing secure data networks for NASA's Moon mission (Artemis), Ariane 6 and the aerospace sector
2022 was an exciting year for TTTech Aerospace, especially for its space business, with many of the programs and projects that the team has been working on in the past years reaching significant milestones. Among them is NASA Artemis, an international endeavor headed by NASA that aims to return humans to the Moon (including landing the first woman and first person of color), establish a base station in lunar orbit and prepare the way for human missions to Mars.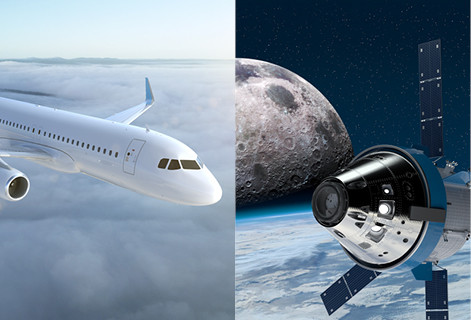 #We are going – NASA Artemis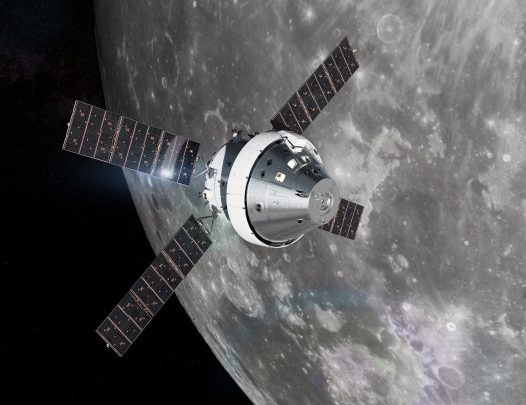 In November, the Artemis I mission started successfully on its journey towards the Moon. TTTech Aerospace is on board the avionics system of the Orion spacecraft and the European Service Module with its TTEthernet® products. Orion will fly around the Moon and then return to Earth in this last uncrewed test flight. Further crewed missions are planned in the coming years where TTTech Aerospace will also be on board.
TTTech Aerospace continued working with its customers Northrop Grumman and Maxar Technologies as well as its space hardware manufacturing partners (among them Beyond Gravity Austria) on NASA's Gateway, passing several critical design and program reviews. Further contracts for the Gateway as well as other projects under NASA Artemis are currently in negotiation.
Contributions to open standards and programs of the European space sector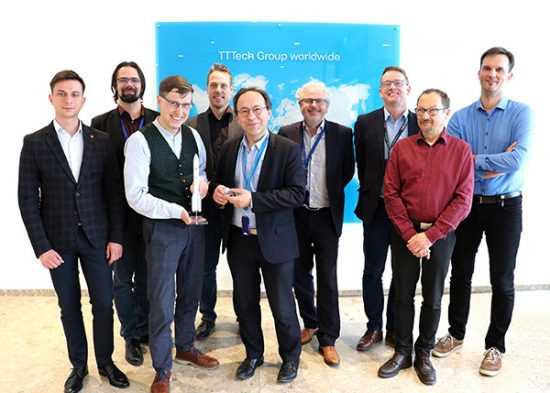 In the European space sector, TTTech Aerospace is working with the European Space Agency (ESA) and its partners. The new, open ECSS Time-Triggered Ethernet engineering standard for space applications (ECSS-E-ST-50-16C) that TTTech Aerospace heavily contributed to, was released late last year. It will make it easier for companies to ensure compatibility and interoperability between different Time-Triggered Ethernet hardware components that are used, e.g., on large-scale international programs like NASA's Gateway. Progress was also reported on the new European launcher generation Ariane 6 that is currently expected to have its first flight towards the end of 2023. TTTech Aerospace contributed substantially to the creation of the launcher's avionics backbone system. Its ASICs ("chips") and the related software are integrated into more than 50 avionic units that all connect to a single, redundant TTEthernet® network, the launcher's "nervous system".
Versatile, high-performance solutions for a wide range of aerospace applications
The aerospace sector requires not only the highest safety standards but also increasingly higher bandwidth for its data networks that allow future-oriented applications and developments.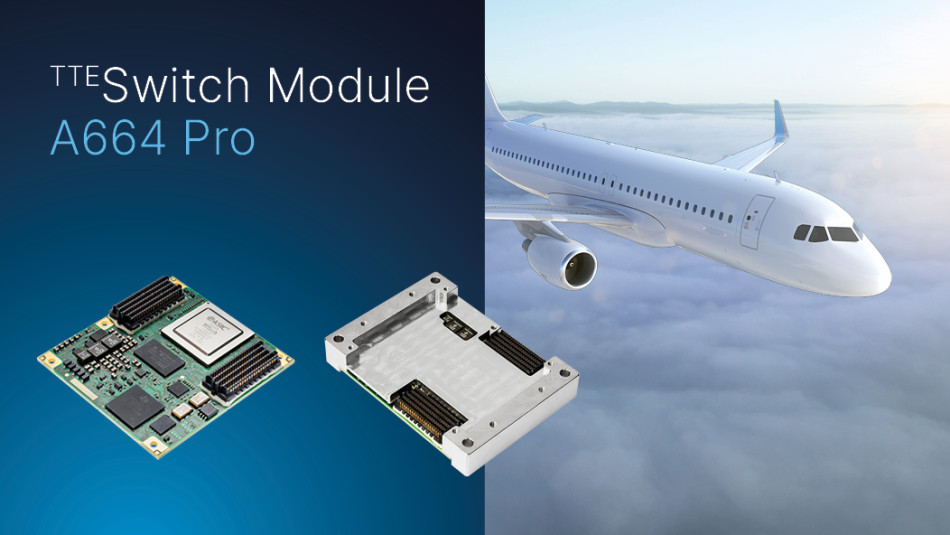 TTTech Aerospace supports these needs with the release of the TTESwitch Module A664 Pro. It is the world's first high-performance (data rates up to 1 Gbit/s), fully ARINC 664 part 7 compatible and DAL A certifiable TTEthernet® switch module currently available on the market. It can be used at the core of certifiable on-board Ethernet networks in fixed wing aircraft, business jets, rotorcrafts, and future applications like unmanned aerial vehicles (UAVs) or urban air mobility ("air taxis" and cargo transport).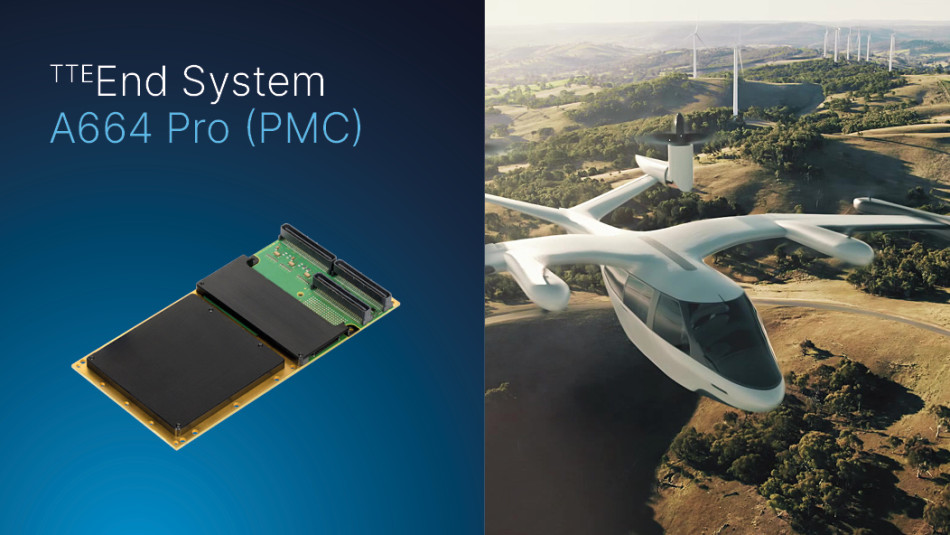 TTTech Aerospace also introduced a certifiable network interface card for use in high-altitude unmanned aerial vehicles (UAV), which is currently one of the fastest growing markets in the sector. TTTech Aerospace's TTEEnd System A664 Pro (PMC) is certifiable to RTCA DO-254/DO-178C DAL-A and DO-160G. It was successfully integrated in an upgraded UAV avionics system, connecting a flight control computer provided by Mercury Systems to the UAV's mission system with SYSGO's PikeOS operating system.
Last year, TTTech Aerospace announced that its TTP® network controllers have accumulated more than 1 billion flight hours in safety-critical DAL A applications in large commercial aircraft. This year, its customer BAE Systems honored TTTech Aerospace with a Gold Tier Supplier award for exceptional performance and contributions to supply chain success for BAE Systems, Inc.'s Electronic Systems sector.