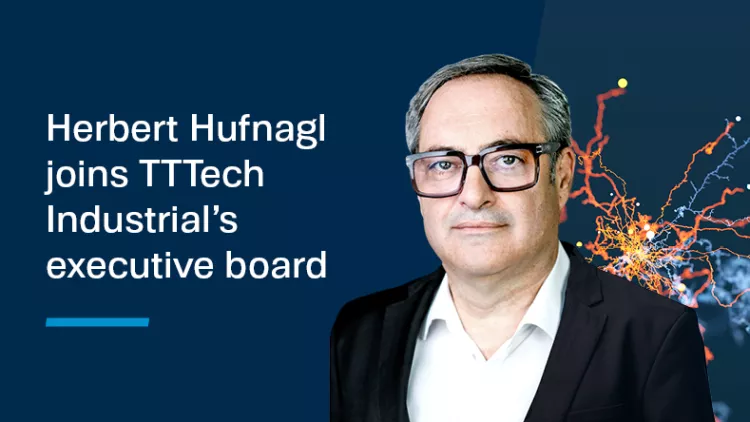 TTTech Industrial has announced the appointment of Herbert Hufnagl as Member of the Executive Board and General Manager as of July 1, 2022. He will put a special focus on strengthening the go-to-market activities for TTTech Industrial's open, modular and scalable edge computing platform Nerve, which was developed particularly for industrial environments and is used by machine builders and system integrators in Europe, the US and Asia.
Herbert Hufnagl has over 25 years of experience in the field of industrial automation and the development of smart industrial solutions and holds a Doctor of Technical Sciences from the Technical University in Vienna.
Georg Kopetz, CEO TTTech Group and Chairman of the TTTech Industrial Supervisory Board comments on the appointment: "This is an important step in further strengthening our TTTech Industrial executive leadership team. Herbert Hufnagl has a long track record in multiple fields in the electrical and industrial automation domain. With his strong technical and business experience and his go-to-market expertise he is a strong leader for the further evolution of TTTech Industrial. Digitalization is a huge opportunity for the European industry and with products like the modular, open and secure edge computing platform Nerve, TTTech Industrial is well positioned to support the need for more efficient and sustainable production and data sovereignty."
Herbert Hufnagl adds: "I see immense growth opportunities for TTTech Industrial's edge computing platform Nerve, which supports digitalization of production, cost savings, and reduction of complexity. Nerve is an open, modular, and scalable platform that has security built into its design and is already used by manufacturing leaders like Fill, Felss, and GKN Hydrogen. I look forward to working closely with our customers and our partners on expanding and improving the solutions portfolio, and to bringing Nerve to many more markets to support companies of every size to become even more competitive with the help of our products and technologies."
Read the full news at TTTech Industrial's website.