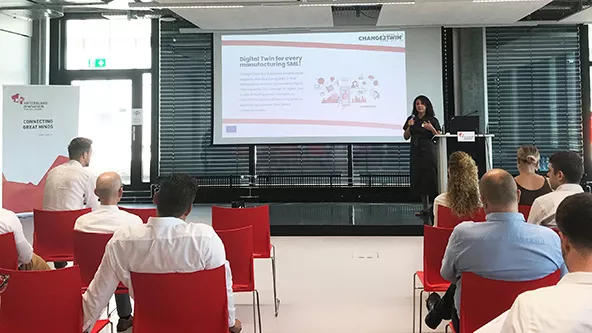 In June 2022, the 3rd International Smart Factory Summit was held in Biel/Bienne, Switzerland. The organizer Swiss Smart Factory (SSF) invited representatives from companies and research institutions active in industrial automation to the expansive Switzerland Innovation Park for three days of education, exchange, and networking.
Technology and teamwork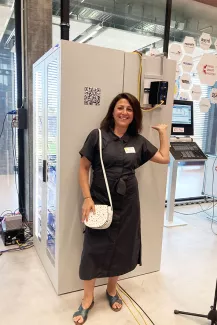 TTTech Group participated as a member of Switzerland Innovation Park, having previously provided TTTech Industrial's industrial edge computing platform Nerve for use and display at the experimental production facility. At the event, TTTech Innovation Projects and Funding Managers Francesca Flamigni and Marcela Alzin introduced the two EU-funded research projects Change2Twin and CPS4RETAIL, which is being coordinated directly by Swiss Smart Factory. Both projects incorporate Nerve as a central component.
Developing features of cutting-edge technology like Nerve is one important aim of these projects. Another is fostering the ecosystem created within them. One way of institutionalizing such networks is the European Commission's Digital Innovation Hub scheme. According to the research institution DIGIS3, Digital Innovation Hubs (DIHs) are "entities that help companies and public administration in a given territory access the information, services and facilities they need to successfully address their digital transformation processes." Swiss Smart Factory was the first DIH registered in Switzerland.
How Digital Innovation Hubs benefit the industrial ecosystem
Every manufacturing business is different, as is its digital transformation process. This means that there is rarely ever a clear blueprint to follow, or toolkit to use, which makes building a digital factory especially challenging for small- and medium sized enterprises (SMEs). DIHs play an important role in today's digital manufacturing ecosystem, because not only do they have profound know-how and resources,but they can also support SMEs by creating PoCs and demonstrators within their own facilities ("test before invest"). They can also provide the required training to ensure the integration of digital technologies in the companies is a real success. In the Change2Twin project, for example, DIHs act as mentors for European SMEs on their journey to their first digital twin.
"The great thing about the DIH concept is that it is independent of the traditional industrial supply chain," Change2Twin initiator Francesca Flamigni explains. "Large enterprises can learn from small startups, universities or research centers, and vice versa, making the knowledge and technology transfer very open and transparent."
Expanding innovation hubs beyond the borders of Europe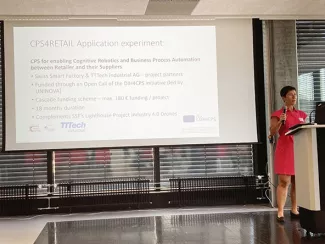 In addition to Innovation Park members, European and international DIHs made up a large part of the audience. Some representatives had come all the way from Malaysia, Mexico, South Korea, or the United Arab Emirates to observe the European scheme and find partners for their own endeavors. This is a great chance to take technologies and collaboration models tested in the Swiss Smart Factory DIH to the next level.
"It has been a fantastic event for us," Francesca Flamigni sums up her experience. "We are very glad that TTTech Industrial is a member of the Switzerland Innovation Park and look forward to continuing our cooperation in the future."
Find out more: