December 11, 2012
TTTech, the leading supplier of dependable networking solutions based on time-triggered technology and modular safety platforms, is the first high-tech company to be awarded the WindMade certification label. In its headquarters in Austria, TTTech obtains 78 % of its power demand from wind energy.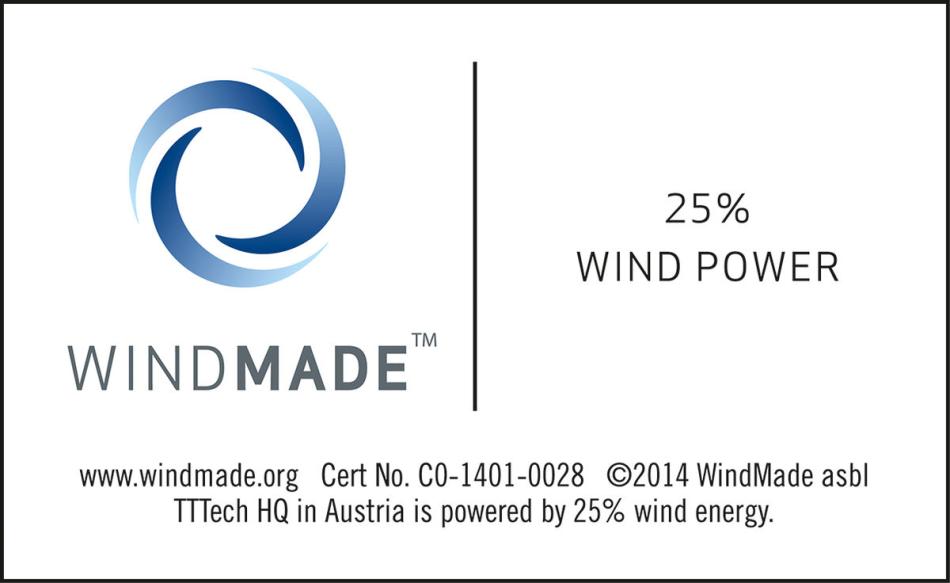 The label, which is backed by the UN Global Compact and conservation group WWF, requires participating companies to obtain at least 25 % of their electricity from wind power.
"We believe that being WindMade is good for both the environment and our business. It gives us the opportunity to demonstrate to our customers that sustainability has top priority for TTTech, and give us an edge over our competitors," said Georg Kopetz, co-founder and member of the Executive Board at TTTech. "In addition, carrying the label fits perfectly with TTTech's ambition to deliver solutions for the entire value chain, from clean energy generation to powering electric vehicles. I am proud that TTTech is part of the sustainable production movement." In the TTTech headquarters in Vienna, 78 % of the power demand is obtained from wind energy.
TTTech products enable developers in the transportation and automation industries to deliver reliable real-time systems quickly and efficiently. The company's solutions are deployed in applications in the Airbus A380, the Boeing 787 Dreamliner and the Audi A8. Utilizing technology similar to that in aircraft and performance cars, TTTech delivers Ethernet solutions, designed to improve reliability and productivity of the next generation of wind turbines, to WindMade partner Vestas.
The WindMade label was created to allow companies to communicate their commitment to renewable energy while providing consumers with the choice to favor companies and products using wind power. "TTTech's commitment to renewable energy shows that sustainability and high-tech solutions go hand in hand. We are therefore particularly proud to have TTTech carry the WindMade label, and I am confident that this will help this growing company give them a competitive advantage in an increasingly tight market place," emphasises Henrik Kuffner, CEO of WindMade.