July 2, 2007
TTTech, the leading supplier of solutions in the field of time-triggered technologies, has achieved AS9100 certification for the development of safety-critical applications in the aerospace industry. AS9100 is the internationally recognized quality management system standard defined specifically by and for the aerospace industry.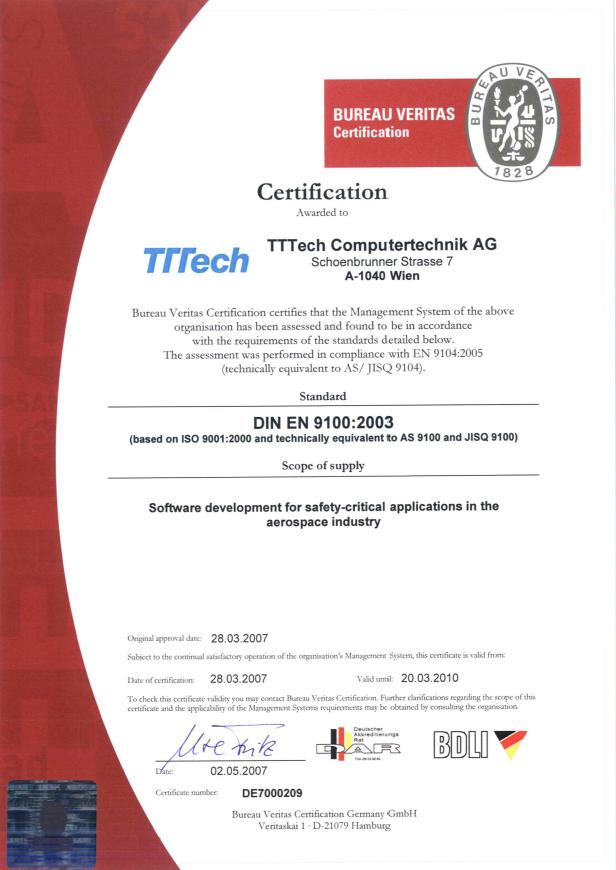 The AS9100 standard is based on ISO9001:2000 and puts special emphasis on quality, safety and technology in all disciplines throughout the industry. Compliance with this standard has become a prevailing requirement, as global aerospace players demand it from their suppliers. The certification demonstrates TTTech´s commitment to excellence, sustainability, and reliability.
"Quality is a key feature of TTTech products and a crucial factor for their success. AS9100 certification represents part of our ongoing effort to ensure high-level quality standards in order to comply with the stringent safety requirements of the worldwide aerospace industry," said Stefan Poledna, CEO of TTTech.
The AS9100 certification audit covered all relevant processes that are involved with software development for safety-critical applications in the aerospace industry. The formal certification audit for TTTech was conducted by Bureau Veritas, which has been a key player in aviation since 1922.
TTTech solutions considerably enhance safety and reliability of distributed control systems in the transportation industries. Worldwide market leaders use TTTech's time-triggered products in commercial production programs for the aerospace, automotive and off-highway industries. Amongst others, TTTech solutions are used in applications for the Boeing 787 Dreamliner and the Airbus A380.