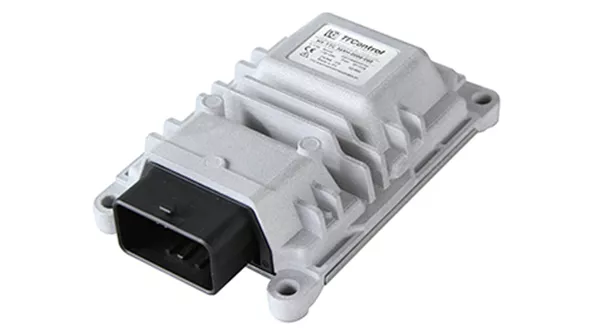 April 3, 2013
TTControl, a joint-venture company of TTTech Computertechnik AG and HYDAC International GmbH specializing in robust and flexible control systems and intelligent displays for off-highway vehicles and mobile machinery, is launching their new HY-TTC 30X product family of user-friendly smart I/O modules. These I/O slave modules are CANopen-based, cost-effective and modular solutions for extending the number of I/Os in mobile applications. All modules will be designed to fulfill EN ISO 13849 requirements. The controllers are best suited for different kinds of control tasks in a vehicle and act as slave units in a CAN-based network architecture.
The intelligent I/O slave modules of the HY-TTC 30X family are used in combination with, and controlled by a master electronic control unit, which can be located at a different place in the vehicle and communicates with the slave module via the standardized CANopen protocol. Such a distributed electronic architecture reduces cabling and makes the design more economic.
The HY-TTC 30X family will include four different variants of modules corresponding to the different demands regarding I/Os as the versions focus on controlling proportional valves, digital/analog outputs or inputs. These variants make it therefore possible to compose any individual set of I/Os. Another use case for I/O modules is to control add-on equipment that is not always present on the vehicle, this allows to omit the module in vehicle variants with less equipment in order to reduce system costs.
"We are pleased to announce a new TTControl family of smart and modular I/O modules for all different kinds of control tasks in a vehicle that helps our customers to reduce costs through reduced wiring and a standardized protocol enabling fast and easy installation. Thanks to the possibility to use slave modules in a modular way, this new family of I/O modules further ensures cost-effectiveness by eliminating the need for excess I/Os," concludes Roberto Ferrari, Director Services and Operations at TTControl.
All modules are protected by a compact aluminum die-cast housing which is highly suited for rough operating conditions. They also provide a wide range of configurable I/Os and allow local current control for its PWM outputs. All I/O slave modules are delivered with a ready-to-run software and an electronic datasheet (EDS-File). When the master is programmed in CODESYS®, the EDS-File can be easily imported into the CODESYS development environment. This makes the setup user-friendly and saves development time.
TTControl has ample experience in providing smart and modular I/O modules meeting the demands of the harsh environments of off-highway vehicles and mobile machinery through supplying solutions for Ladog's municipal vehicles, Casagrande's drilling machines, BLUELIFT's compact areal platforms and Prinoth's snow groomers. The first presentation of the HY-TTC 30X product family will take place at bauma trade fair 2013 (TTControl booth no 529, HYDAC booth no 439/534), which will be held from April 15 to 21 in Munich, Germany.