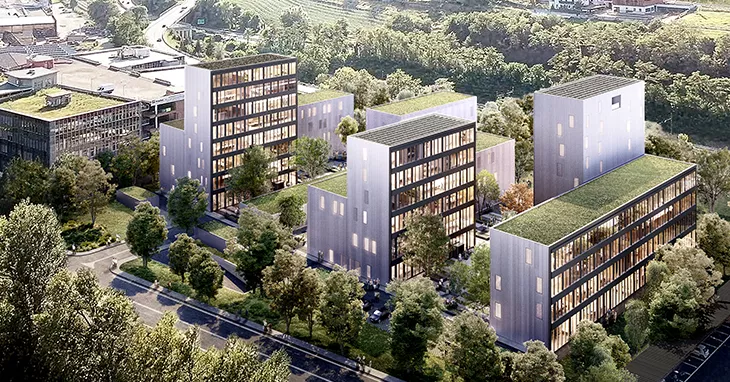 The Innovation Campus Brixen in South Tyrol is to set the pace of digital innovation in the Bressanone region and Central Europe  
The focus is on key technologies such as artificial intelligence or machine vision
The innovative, modular and sustainable campus with more than 12,000 square meters of space is being built by the project partners TTControl (joint venture of Vienna-based TTTech Group and the German company HYDAC) and MiCROTEC, among others
Brixen, South Tyrol and Vienna, Austria, May 3, 2023 – Yesterday, the Austrian Secretary for Digitalization Florian Tursky learned more about the project's potential and the broad-based know-how of the Brixen region from the project partners MiCROTEC and TTControl during a visit in Brixen. In addition, the concept for an AI laboratory ("mailab") on campus was presented, which will make it possible for pupils and university students to learn skills in the field of artificial intelligence while drawing on the practical knowledge of leading companies. The campus is scheduled for completion by 2026.
The industrial application of artificial intelligence  is an effort that is only possible through the collaboration of innovative actors from a wide variety of fields. For this reason, the Innovation Campus Brixen project now wants to combine the components of technology, education, and business in one place. The region's numerous high-tech companies have leading expertise in key technologies such as artificial intelligence for controlling autonomous machines, computer vision, cloud, and edge computing. The Innovation Campus Brixen is intended to bundle this knowledge and thus become an innovation and technology hub for Central Europe, starting from South Tyrol, Italy and Austria. "Digitalization is one of the most important job engines of the future. The Innovation Campus Brixen will provide important impetus to make our country a pioneer for technology topics in Europe. This secures and creates jobs and opportunities for the next generations," says Provincial Councillor Philipp Achammer, who was unable to attend the meeting with the project partners and the Austrian State Secretary for Digitalization Tursky due to institutional commitments in Rome.
On-site in Brixen, MiCROTEC and TTControl opened their doors to the visitors. MiCROTEC is working on imaging techniques that detect wood defects in real-time, thus enabling more resource-efficient wood processing. TTControl, a joint venture between the Vienna-based TTTech Group and the German-founded group of companies HYDAC International, is working on the next generation of smart mobile machines that will make networked and autonomous concepts such as smart farming a reality. "I am pleased that we are strengthening the business location through innovation and thus securing prosperity through digitalization in the region. Not only will the Innovation Campus in Brixen use the potential of digitalization, but it will also be a hub for the acquisition of digital skills. Students learn digital skills at the Innovation Campus and can draw on the practical knowledge of the companies based there, and thus prepare themselves optimally for a digital future," says State Secretary Florian Tursky, responsible for digitalization and telecommunications at the Austrian Federal Ministry of Finance.
A medium-term goal of the project is also to combine business and education. "The campus should also become a contact point for the acquisition of digital skills. The aim is to give the next generation of developers access to the bundled knowledge of the partner companies and thus awaken young people's enthusiasm for technology," says project manager Roberto Ferrari, TTControl.
------------------------
Background information on the participating companies
TTControl
TTControl is a leading company in the field of safe control systems, robust displays and networking and IoT solutions for mobile machines. The company is a joint venture between TTTech and the German HYDAC Group with offices in Vienna (Austria) and Brixen (Italy). TTControl products are the technological heart of innovative construction and agricultural machinery as well as lifting platforms, cranes, municipal vehicles and other special mobile machines. In cooperation with leading customers, TTControl is working on the next generations of mobile machines with fully autonomous work functions and electric drives.
MiCROTEC
Technology and market leader in the field of intelligent recognition of wood properties for optimization in the woodworking industry. The company manufactures quality scanners and software products that make it possible to use wood as a material in an economically and ecologically sustainable way. The company develops imaging devices that detect any biological fluctuations in wood as a material and enable optimal use of resources through automation and optimization in production. MiCROTEC produces, among other things, color, infrared and X-ray scanners, computed tomography as well as systems for radio wave analysis and high-resolution image processing. The company has a total of six locations in Europe, Canada and the USA.
TTTech Group
The TTTech Group is a leading provider of safe networked computing platforms that make megatrends like the Internet of Things and autonomous mobility a reality. Its solutions are applied in markets like automotive, mobile machinery, aerospace, smart manufacturing and automation and are trusted by many renowned market leaders, based on 25 years of technology leadership. About 2,300 employees from more than 60 nations work on 20 sites in 14 countries for TTTech Group companies, ensuring proximity to its valued customer base and partners around the globe.
Images