June 8, 2009
austriamicrosystems (SIX:AMS), a leading global designer and manufacturer of analog ICs for communications, industrial, medical and automotive applications, and TTTech Automotive, the leading development partner for automotive electronic networks, today announce their cooperation in FlexRay transceiver support and development. Merging the two partners' chip and system know-how will improve the quality and reliability of FlexRay networks, whilst lowering costs. It will now become possible to design optimised FlexRay topologies composed of more nodes, and to interconnect them through less expensive cabling by using the jointly developed Bit-Reshaper.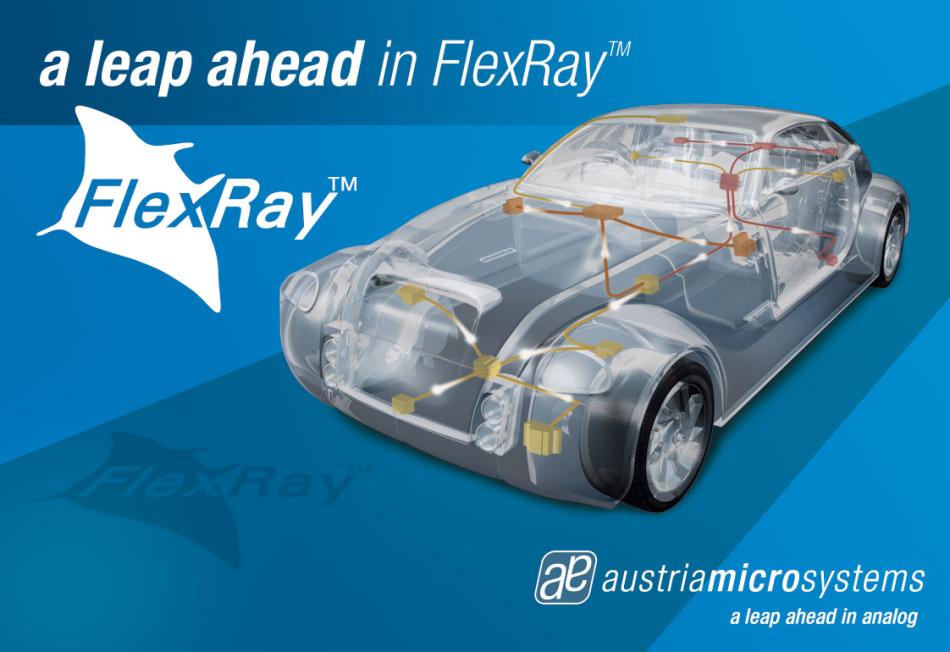 TTTech Automotive will also assist in the design-in process of austriamicrosystems' FlexRay transceiver ICs and the development of testing equipment. This will also assure compatibility of different manufacturers' hardware components. In doing so, TTTech Automotive considers itself as an implementation partner for high-performance, reliable and secure networking platforms.
The main focus of austriamicrosystems' FlexRay devices is on system stability. All austriamicrosystems products possess the best immunity on the market against external EMC influences. Using the integrated Bit-Reshaper, austriamicrosystems has developed the AS8224, the first FlexRay Active Star device worldwide that enhances signal quality (asymmetric delay). As a result, austriamicrosystems has presented a particularly innovative solution that allows the use of longer cables while cutting wiring costs.
"By entering this partnership with TTTech Automotive, we provide our customers not only with product support but also with improved assistance in the integration and layout of FlexRay networks", explained Bernhard Czar, Director Marketing Automotive at austriamicrosystems, adding: "By pooling our chip and system know-how we will work together to develop further innovations boosting FlexRay network stability and efficiency". Marc Lang, Director Sales TTTech Automotive said, "This cooperation takes advantage of synergies between austriamicrosystems' chip development and production technology on the one hand, and TTTech Automotive's FlexRay system experience on the other, thereby increasing customer value by ensuring positive effects on the system design, as well as cost savings".
About austriamicrosystems
austriamicrosystems is a leading designer and manufacturer of high performance analog ICs, combining more than 27 years of analog design capabilities and system know-how with its own state-of-the-art manufacturing and test facilities. austriamicrosystems leverages its expertise in low power and high accuracy to provide industry-leading customized and standard analog products. Operating worldwide with more than 1,000 employees, austriamicrosystems focuses on the areas of power management, sensors & sensor interfaces and mobile infotainment in its markets Communications, Industry & Medical and Automotive, complemented by its Full Service Foundry activities. austriamicrosystems is listed on the SIX Swiss Exchange in Zurich (ticker: AMS).
For more information, please visit www.austriamicrosystems.com.
Press Contact
Ulrike Anderwald
Marketing Communications Manager
Tel: +43 (0) 3136 500 5856
Fax: +43 (0) 3136 500 5420
press@austriamicrosystems.com
www.austriamicrosystems.com
Technical Contact
Harald Gall
Product Manager
Tel: +34 917 924 878
Fax: +43 (0) 3136 500 5420
harald.gall@austriamicrosystems.com
www.austriamicrosystems.com