NENUFAR – Next gEneration of eNergy storagE solUtions For more electricAl aiRcrafts
Project Description
Air transport contributes to only 2% of man-made CO2 emissions and shall reach up to 3% in 2050. Still, air pollution, noise and climate change remain critical issues. Thus, the aerospace industry is to evolve towards a 'More Electric Aircraft' design approach. This will enable to achieve a cost-effective green aircraft. It requires breakthrough innovations to support evolution towards electrification while increasing the safety and reducing the weight. To face these challenges, a technological solution has already been considered: Battery Lithium Ion.
This technology is one of the candidates to address the main challenges of energy storage, mass reduction and safety. However, this technology may present thermal risk in event of power management not optimized. The objective of manufacturers is now to go beyond its technical problems to guarantee a high level of safety. The NENUFAR project aim is to develop an innovative energy storage solution for aircraft LVDC and HVDC electrical networks. Safety, robustness, availability, life cycle, weight and compactness are the main criteria for providing energy storage solutions with high energy density on the one hand and high-power density on the other hand.
NENUFAR project gathers an inter-disciplinary expertise consortium able to identify the optimized solution on the whole technical chain from the battery cell, its batt, its charger, packaging of the pack. The consortium has the necessary skills and know-hows to implement all the means of modeling, design, characterization, which will optimize the best energy storage solution. NENUFAR will select the best cells already available on the market, will optimize battery management system, will develop innovative charger/converter, innovative thermal control, innovative casing for high power and high-density storage solution for aircraft. Safety aspects and also aeronautic standards will drive all the technical solution.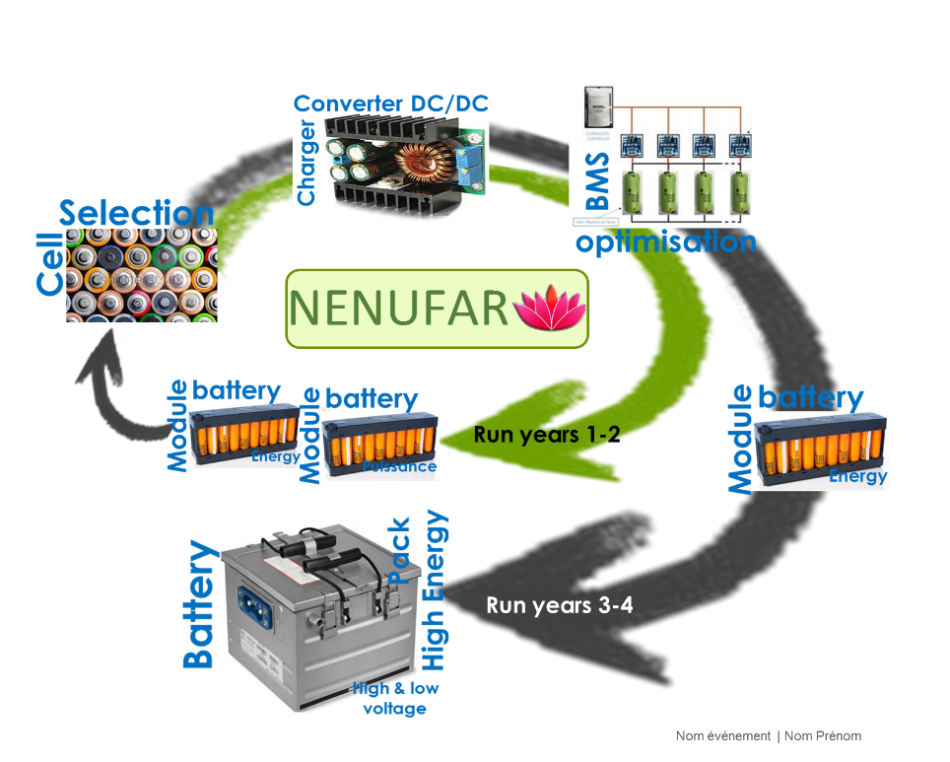 This project has received funding from the Clean Sky 2 Joint Undertaking under the European Union's Horizon 2020 research and innovation programme under grant agreement No 807081.
TTTech will be responsible for the data communication sub-system connecting the modules (BMS, Charger / Converter) to the aircraft data communication back-bone system, which in most of the modern aircraft is AFDX. TTTech will therefore implement a dedicated ARINC 664 part 7 (AFDX) compatible network for the NENUFAR modules. This will include a TTEthernet (SAE AS 6802) switch and end-systems at the NENUFAR modules. The high quality of the communication proposed by TTTech participates strongly to improve the safety energy storage solution.