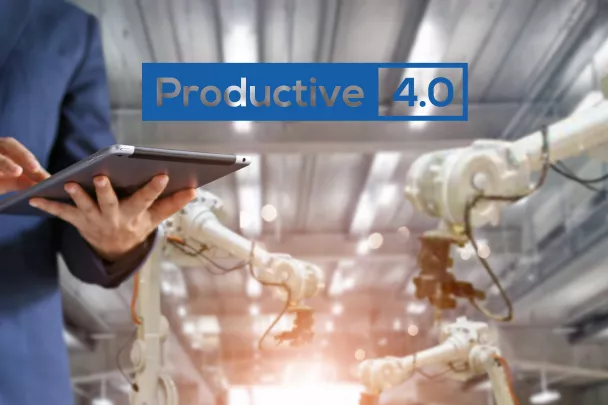 Successful project completion
After more than three years, Productive 4.0 was successfully completed in October 2020. With key outcomes enabling more predictability and flexibility in production as well as efficient change of business models for future application, the project made huge strides towards the improvement of digitalization in European industry.
Productive4.0 – Electronics and ICT as enabler for digital industry and optimized supply chain management covering the entire product lifecycle
Project Description
Productive4.0 is the largest-ever European research initiative in the field of Industry 4.0. This co-funded innovation and lighthouse project is initiated to strengthen the international leadership of the European industry and addresses the major challenges of Industrial Internet of Things, cyber physical systems and automation. Also known as Digital Industry, Industry 4.0 is associated with such aspects as smarter and more flexible production, a better use of resources or a changing work environment – just to name a few. In this regard, the main objective of Productive4.0 is to achieve significant improvement in digitalizing the European industry by means of electronics and ICT.
The Productive4.0 holistic system approach to digitalization is based on three main pillars: digital production, supply chain networks and product lifecycle management. Since the same approach should be applicable for various industrial domains, the development of the Productive4.0 framework as a cross-domain platform for Digital Industry is the key driving requirement. The platform will enable seamless production automation, novel network solutions, transparency of data guaranteeing consistency, flexibility and overall efficiency of industrial applications. New technologies and tools will be exploited to ensure safety, security, reliability and operation under strict real-time constraints in a mixed-criticality setup. In general, Productive4.0 aims to achieve suitability of the platform for everyday application across all industrial domains reaching TRL8.
Infineon Technologies AG coordinates the Productive 4.0 project that brings together more than 100 research and industrial partners from 19 EU member states and associated countries. The well-balanced consortium consists of AENEAS, ARTEMIS-IA and EPOSS partners, thus mobilizing all ECSEL (Electronic Components and Systems for European Leadership) communities.
Productive4.0 receives funding from the European H2020 research and innovation programme, ECSEL Joint Undertaking under grant agreement no  737459 and from the Austrian Ministry for Transport, Innovation and Technology under the funding programme "IKT der Zukunft" (Austrian national funding for ECSEL), grant agreement no 858973.
In the context of Productive4.0 TTTech will continue ongoing research and development of Industrial IoT solutions for highly scalable and modular real-time architectures of safety-critical systems. As a company operating in various safety-relevant application domains, TTTech actively contributes to the definition of requirements and architectures for flexible production processes based on the distribution of both computation and control systems towards the network edge.
In the frameworks of the project, TTTech will develop hardware and software components, enabling reliable and reconfigurable real-time networking and computation in the network edge based on Deterministic Ethernet. Apart from this, TTTech is heavily involved in the "Camshaft Proactive Manufacturing" use case. Together with other partners, the company will design and demonstrate an innovative fog node architecture based on a powerful computing platform. This will allow TTTech to exploit fog computing in industrial automation on the shop floor, focusing on the fast and flexible (re-)deployment of novel applications and intelligent services in the factory. The achieved advances will result in an essential technological contribution to the European factories of the future.
Productive4.0