IoT4CPS – Trustworthy IoT 4 CPS
Project Description
IoT4CPS develops guidelines, methods and tools to enable safe and secure IoT-based applications for automated driving and for smart production. The project will address safety and security aspects in a holistic approach, both along the specific value chains and the product life cycles. To ensure the outreach of the project activities and results, the relevant stakeholders are involved throughout the project and results are disseminated to expert groups and standardization bodies. IoT4CPS supports digitalization along the entire product lifecycle, leading to a time-to-market acceleration for connected and autonomous vehicles. IoT4CPS provides innovative components, leading to efficiency increases for the deployment of autonomous driving functions and in smart production environments.
The research areas focus on conducting extensive Security & Verification Analysis, Safety and Security Design and Methods as well as IoT Life Cycle Management aspects in the target domains "Automotive" and "Industry 4.0" Smart Production. The project develops IoT domain specific platforms and a framework bridging the requirements for safety and security.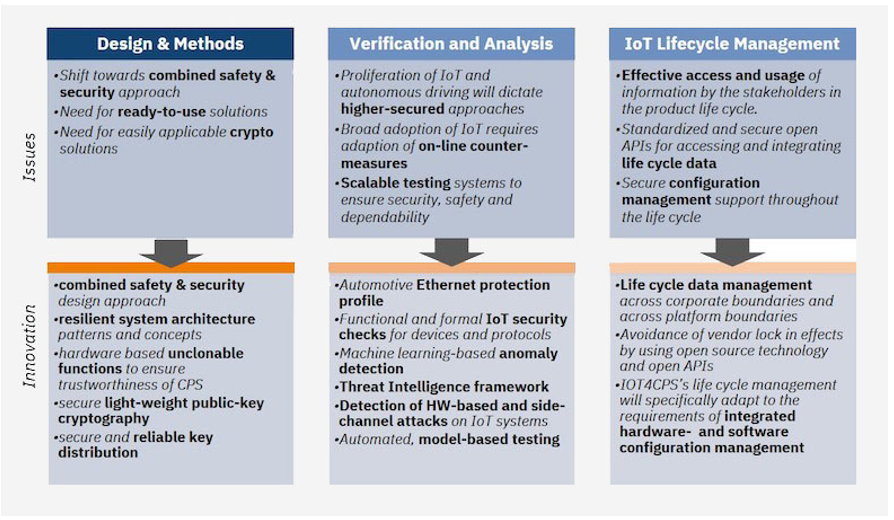 Safety and security design and methods are sharply distinguished. While "safety" has been understood in context with embedded systems & CPS for a long time, "security" was mainly developed for classical IT systems. Today, embedded systems and CPS require to satisfy both, safety and security measures at the same time.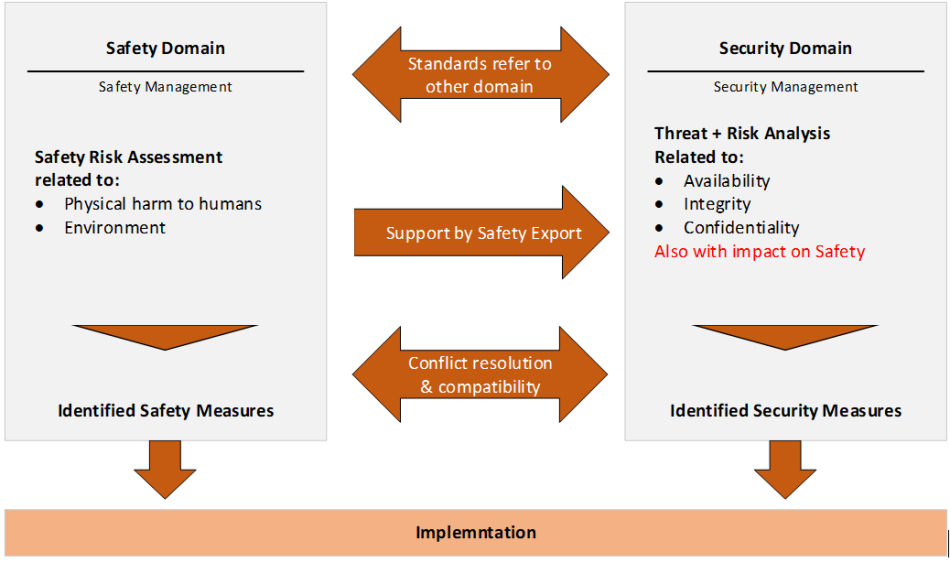 Demonstrators are built for "Automated Driving" issues and applications in the "Industry 4.0" domains.
The consortium is an outstanding asset of the project fostering cooperation between the leading Austrian players in both domains, automotive and industrial. Under the consortium leadership of the Austrian Institute of Technology GmbH, it consists of Austrian industry partners covering the major aspects of the CPS value chain from semiconductors (Infineon Technologies Austria AG, NXP Semiconductors Austria GmbH), to control systems (AVL List GmbH, TTTech Auto AG), to applications in automotive and production (AVL List GmbH, Siemens AG Österreich), up to communication infrastructures and connectivity (Nokia Solutions and Networks Österreich GmbH, X-NET Services GmbH). Furthermore, the project partners provide solutions also along the whole product lifecycle from development, via production to operation. The scientific partners represent the key industrial innovation centers in Austria (Austrian Institute of Technology GmbH, Danube University Krems, Joanneum Research Forschungsgesellschaft mbH, Salzburg Research Forschungsgesellschaft, SBA Research GmbH, Software Competence Center Hagenberg GmbH, Johannes Keppler University Linz (Institute for Pervasive Computing), Technical University Graz (Institute of Applied Information Processing and Communications), Technical University Graz (Institute for Technical Informatics), Vienna University of Technology (Institute of Computer Engineering)). The consortium leader (Austrian Institute of Technology GmbH) has complementary experience in managing large consortiums and as technology expert.
IoT4CPS receives funding from the Austrian "Federal Ministry for Traffic, Innovation and Technology" ("Bundesministerium für Verkehr, Innovation und Technologie") BMVIT via the "Austrian Research Promotion Agency" ("Österreichische Forschungsförderungsgesellschaft mbH") FFG.
 TTTech Auto AG contributes by developing technologies for a safety platform for autonomous driving with respect to enabling seamless integration of safe and secure IoT applications in the automotive domain. Starting at a resilient architectural level providing solutions and network implementation to be installed at vehicle level, the platform supports communication over deterministic Ethernet (TSN). The platform enables the multi CPU control unit with dedicated developments on real-time, time-triggered SW- and Middleware- level for future generation highly automated/autonomous driving capabilities. The platform offers common execution environment, APIs, standardized abstraction from underlying hardware and operating systems, and offers location transparency. Location transparency means that software components can be developed independently regardless of the hardware constraints and can be also moved from one CPU to another depending on, e.g., safety requirements or CPU utilization.
Concerning demonstration, TTTech Auto AG integrated their Platform into a mobile rover robot equipped with LIDAR Support for automatic obstacle detection/environmental awareness generation for autonomous operation.
 

Figure 3: Rover with TTTech platform (right) and Platform hardware (left)