The age of autonomous machines
Today, many machines can be automated to a large extent. In the future, machines will increasingly operate without human intervention. Having reached autonomy, they will learn, adapt, and even evolve in line with their changing environment
Highly automated driving takes the brunt of public attention. However, the automation/autonomy megatrend has far-reaching implications for almost every area in which technology plays a role. In addition to autonomous driving, examples include Urban Air Mobility, industrial automation, smart factories, or smart agricultural machines, which are already affecting the way we work and produce goods. Smart farming or precision farming are among the core technological trends to feed a growing global population and counteract urbanization. In rural areas, where there is often a shortage of agricultural workers, this core technology can help solve problems like global food shortages.
Autonomy requires the interaction of several emerging technologies, such as machine vision, machine learning, artificial intelligence, edge computing, and many more. Recognizing that strong cooperation in the automation ecosystem is key to make safe autonomous evolution a reality, TTTech takes a collaborative approach to business and innovation, partnering with business, academia and institutions across various industries and continents.
The future of mobility
From automation to autonomy
In the automotive realm, increased automation has the potential to make driving a safer, more productive experience. Self-driving cars may one day reduce the number of vehicle accidents significantly, improve road safety and eventually even free drivers up for other tasks they may perform while not actively driving, such as reading or studying.
TTTech Auto has set out to tackle the toughest challenge of autonomous driving: safety. The company's safety software platform MotionWise is already used in 2 million cars on the road, paving the way for increased levels of automation in future vehicle generations.
How data is enabling the smart factory
The first industrial revolution focused on mechanization, powering hitherto hand-made production and creating larger factories with higher performance.
With the advent of computers and electronics, another revolution in manufacturing was started. The automation of processes became possible for the first time. The main question today is how to build a "smart factory" – one that is highly autonomous and maximally efficient.
One key requirement for every smart factory is data. Data must be collected from all sensors in the production process, evaluated and used for improvements. Cloud computing provides users with a comprehensive data pool that is hosted on servers connected to the internet. However, as more and more services are digitized and automated, the amount of data generated increases. Real-time requirements of applications, bandwidth and security issues also show the limits of cloud computing. Edge computing can be seen as an extension of cloud computing, but unlike cloud computing the data is processed directly on the shop floor where machine data is generated. The data is therefore available in real-time and it is actionable, i.e. available for immediate use for operating the plant, optimizing processes, or preventing accidents. Therefore, edge computing platforms, such as TTTech Industrial's Nerve, are one of the key technologies that can unlock the full potential of industrial automation.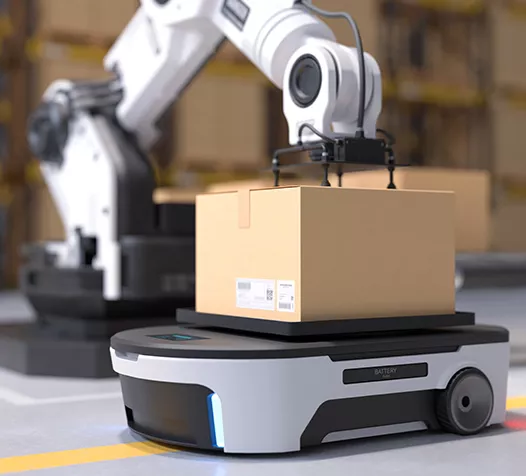 MADE IN EUROPE
Automated online retail
In an experimental smart factory located in Switzerland, a completely automated online retail process is currently being tested. In the research project CPS4Retail, customized drones are being produced to order, packaged, and shipped – all fully automated via a retailing platform enhanced with AI and enabled by edge computing.
Smart, autonomous machines will feed the world
Mobile machinery includes a wide range of machinery designed to perform specific operations in off-road environments. It includes agricultural machinery such as tractors and harvesters, construction machinery like diggers and cranes, or municipal machinery like garbage trucks or fire engines.
This heterogeneous and complex market harbors endless potential for automation:  Sophisticated assistance functions allow less skilled workers to be more efficient and increase the safety of operators and bystanders by advanced perception systems. Augmented and virtual reality can be of value for operating equipment in remote locations or hazardous environments.
One of the most promising fields for automation is agriculture. According to the UN, the human population will reach 9.7 billion by 2050. At the same time, we are seeing a trend towards urbanization and labor shortage in rural areas. As cities and populations grow, arable land becomes scarce. The combination of labor-intensive processes and complex machinery makes agriculture predestined for expansion into electronics. In remote locations, autonomous agricultural machinery may soon be performing most of the work, monitored via augmented and virtual reality.
 
Coming soon: air taxis and delivery drones
There is still a lot of potential to increase automation in classical passenger aircraft to increase safety, especially during taxiing and in the cockpit.
However, the most exciting emerging aerospace trend is Urban Air Mobility (UAM), using electric aircraft (with or without a pilot) able to take off and land vertically in small spaces. What sounds like a concept from a science fiction movie may already become the reality in parts of Europe within the next five years, according to the European Union Aviation Safety Agency (EASA). Goods may soon be delivered by unmanned aerial vehicles (UAVs) such as drones, initially piloted, but rapidly moving towards autonomy. On the other end of the spectrum are air taxi services that may transport passengers in urban areas.
European companies are leading the way in developing core technologies for this promising trend.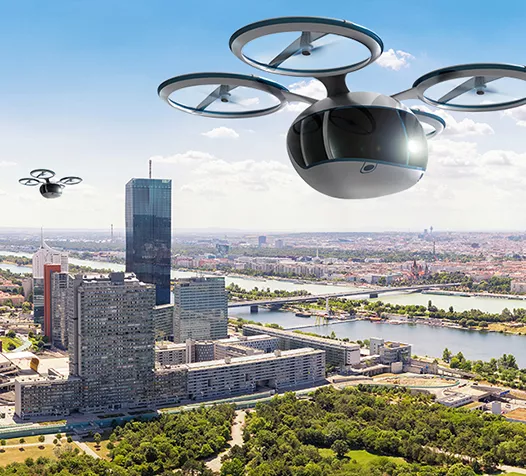 Research project
The Austrian national research project INCONTROL-RL is investigating ways to increase the autonomy of drones and lightweight aircraft with the help of AI. This research may eventually enable them to be certified for use in urban civil environments without a human pilot steering the operation.