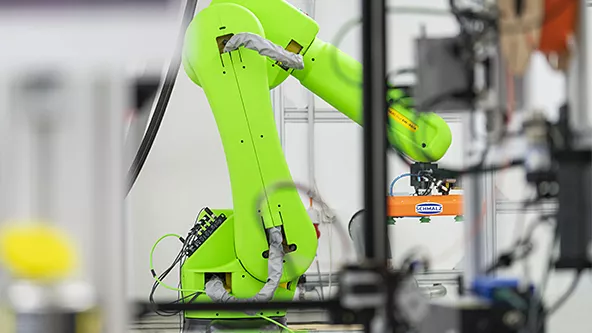 Online shopping had been on the rise even before the COVID-19 crisis, but the world-wide lock downs that accompanied the pandemic firmly cemented the age of remote retail. In this highly competitive environment, products are expected to become ever more customizable while the tolerance for long delivery times is decreasing proportionately.
With the spotlight now on online retail, the business is being discovered as fertile ground for automation and optimization efforts – not just on the part of individual companies. The EU-funded project CPS4RETAIL*, in which TTTech is a consortium member, is currently testing a new way of doing online retail in Switzerland. The project lead Swiss Smart Factory is providing an experimental facility, where customized drones are being produced to order, packaged, and shipped – all fully automated. The aim is to close the gap between industrial automation and online retail by connecting customer, seller, and producer over a new retail system making use of cognitive robotics.
Automated retail chain based on cognitive robotics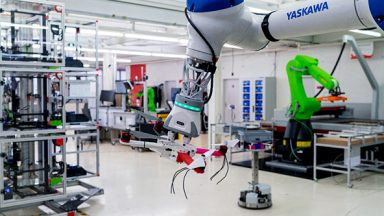 How does it work? Customers place their order for a fully customized drone online, receiving immediate feedback on their order. The retail platform provided by Swiss Smart Factory has been enhanced with cognitive ERP – a kind of Artificial Intelligence. The cognitive ERP supports retailers by automatically planning and verifying the availability, price, and delivery time for individually configured products. It allows seamless integration and automatic orchestration of all supply chain processes via CPS-connectors. The order is transmitted directly to the suppliers and produced in a smart factory. On the supplier side, availability of parts and products is determined by sensors in real-time and then fed back into the retail platform to keep sellers and customers up to date. TTTech Industrial's edge computing platform Nerve is used in production sites to facilitate data communication within the smart factory and ensure interoperability.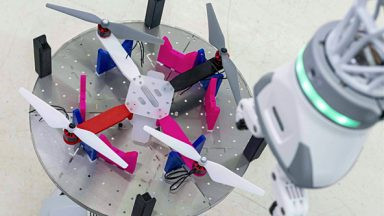 Mirza Imamovic, Sales Manager at TTTech Industrial says: "The use of Nerve as an IoT platform delivers edge intelligence for smart services and business models between retailers and their suppliers, like in the project CPS4RETAIL. TTTech Industrial's Nerve platform addresses the missing link between business and automation systems by providing a flexible, secure infrastructure that allows end-to-end connection from the sensor to the cloud."
Connected, efficient, sustainable
"The result is a connected, collaborative, and sustainable business process that benefits everyone involved," says Marcela Alzin, who coordinates part of the project at TTTech in Austria. "Customers can enjoy an individual product made-to-order as well as a fully transparent, hassle-free shopping experience. Sellers and producers profit from improved communication and cost-savings, as parts and products can be ordered on demand. Finally, society profits from less waste and emissions created by an optimized production process. "
The application experiment is currently open to customers in Switzerland interested in acquiring a pristine new drone. If it is successful, the business model may soon be scaled to encompass more sites and a wider range of products. The potential it brings for expanding Europe's role in the fourth industrial – and online retail – revolution is enormous.
*This Application Experiment has received funding from the European Union's Horizon 2020 research and innovation programme, through an Open Call issued and executed under the project DIH4CPS (Grant Agreement No. 872548).
Find out more: