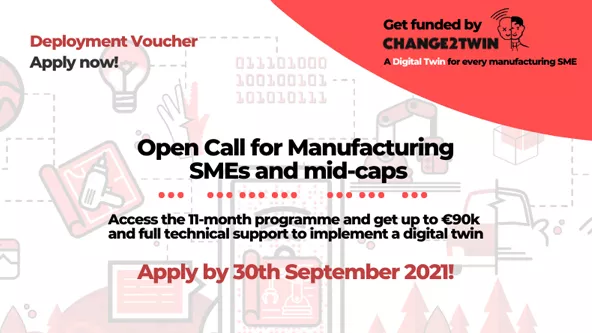 On June 30, 2021, the H2020 project Change2Twin launches its second Open Call to support European manufacturing companies in their digitization using digital twin technology. TTTech is a consortium member and provides TTTech Industrial's open edge computing platform Nerve to one of the project's four pilots.  SMEs and mid-caps looking to implement a digital twin can now apply to the "Deployment Voucher" Open Call.
This "Deployment Voucher" is worth up to 90,000 € (lump sum), to cover the costs to deploy and implement technology and systems applicable to digital twins for manufacturing. The up to eleven successful applicants will join an eleven-month program to deploy the digital twin solution. During this time, they will receive technical mentoring and guidance from one of the EC-certified Digital Innovation Hubs that are part of the program.
"Assessment Voucher": promising turnout from thirteen countries
The "Deployment Voucher" follows a first Open Call, fittingly called "Assessment Voucher", which closed in March 2021. It provided successful companies with a lump sum of 10,000€ each to get support and funding to assess the potential for digital twins inside their companies. 54 proposals were received from 13 countries – a great turnout for the organizers:
"We have received applications from businesses active in various fields: metal processing, construction, textile or automotive." says Dr. Francesca Flamigni, Technical Project Manager for Change2Twin at TTTech. "The digital twin is intended for many different purposes: production plants, manufacturing processes, logistics, customer service and many more. It is great to see that the diverse application fields of this exciting technology are being accepted, adapted and refined across industries."
Applications for "Deployment Voucher" open until 30 September, 2021
The new "Deployment Voucher" call is also open to companies that did not participate in the first call because their digital twin plans were already advanced beyond the conceptual stage. It is aimed at manufacturing SMEs and mid-caps that are in search of finding solutions to digitize their processes and are established in the EU or other eligible countries.
The application process is open until 30 September.
Find out more: