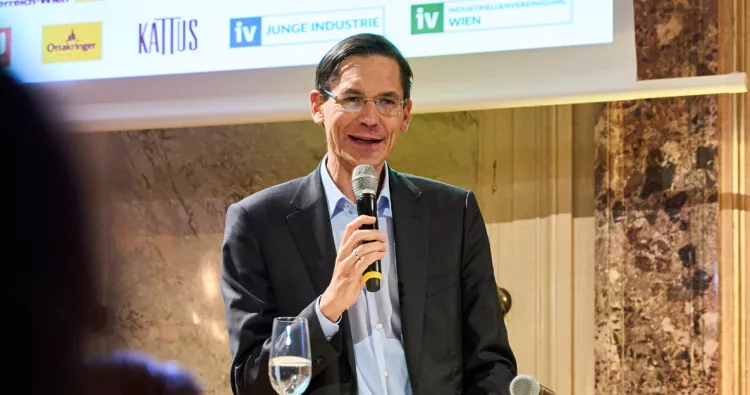 On October 20, TTTech CEO and co-founder Georg Kopetz participated in the Annual Meeting of the Junge Industrie, the youth branch of the Federation of Austrian Industries. In his keynote, he tackled the question: how can we turn Austria, and especially Vienna, into an international innovation hot spot?
The event's motto this year was "Urban Future", accordingly Georg Kopetz addressed urbanization and its consequences: "The future of the city is unthinkable without technology and innovation – the more people live closely together, the more we need innovative, smart solutions in mobility, energy, communication, or construction." Because of the large and diverse number of people living in cities, they are also often incubators for new ideas.
Vienna, however, despite its large number of universities and research institutions, is better known as capital of culture than a capital of technology and innovation. To change this and to realize Vienna's full potential, Kopetz offered five suggestions :
1. Rebrand Vienna as "Smart City – City of the Future"
What should be a city's brand, economically speaking? Vienna is an advanced player in the fields of public mobility, energy, but also communal services. It is home to many companies that contribute to making cities more digital and sustainable. For example, TTTech recently collaborated with innovation leader Rosenbauer on the world's first hybrid fire truck. Likewise, The Autonomous is an international initiative orchestrated from Vienna, which aims to advance safety in autonomous driving by forming ecosystems in the industry. These are all proof points for innovation that is already happening and must be prioritized in the city's strategic brand management to create public awareness of Vienna's innovative potential.
2. Define innovation as universities' core business
Universities do a lot of research, but not all of it is focused on practical innovation. In order to truly drive innovation in practice, however, universities must prioritize the transfer from research into real-world applications and further improve their collaboration with companies. TTTech, for example, has recently launched an international PhD program with TU Vienna to foster this kind of partnership.
3. Strengthen STEM education
The jobs of the future will not be in factories, but in cyberspace. Young people must be prepared for this shift. Innovation creates jobs, but only if the next generation receives the right education. TTTech is one of the largest employers in Vienna's fourth district yet is forced to recruit a lot of tech talent from abroad because the local education system is not sufficiently prepared for the digital age. To foster interest and understanding for STEM fields , TTTech is planning to start the format "TTTech Community Talks", which will allow local schoolchildren to experience innovation in-person at the TTTech headquarters.
4. Invest in innovation
The TTTech CEO is convinced that every cent spent by the public sector on innovation is an investment that will pay off many times over.  TTTech is currently setting up the TTTech Innovation Campus in Brixen, South Tyrol, not least because the region has recognized the importance of innovation and supports it financially. Other cities and regions should follow this positive example.
5. Prioritize "doing" over "planning"
Innovation is included in many political plans, but how often is it really implemented? Companies are the forerunners of innovation. They must collaborate with governments to get from "planning" to "doing" and really give birth to new innovations that will establish a city like Vienna as "Smart City – City of the Future".
Georg Kopetz: "Even though I was not born in this city I am a passionate citizen of Vienna as well as a passionate tech entrepreneur. I would love to see this city become the innovation capital it truly deserves to be".