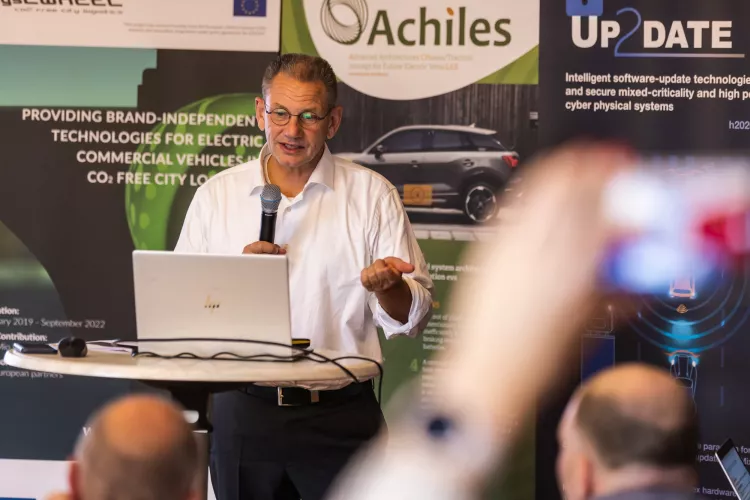 The Autonomous is a global community shaping the future of safe autonomous mobility. On September 27, 2022, 500 participants met in Vienna's magnificent Hofburg imperial palace for the annual The Autonomous Main Event. While this is an ideal stage for the "who is who" of the business community to network and exchange ideas, it is also a perfect opportunity to take stock of what is happening in the world of international research and development.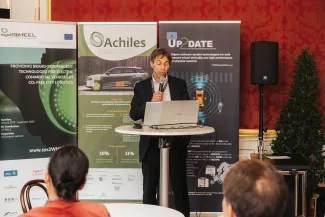 In a packed auditorium, the parallel Spotlight Session "Research & Innovation in Autonomous Mobility" was hosted by the TTTech Group's Innovation Projects and Funding Management Team. "We have heard on the Main Stage that around the globe, roughly 60 OS and middleware solutions for autonomous driving are currently being developed in competition," said IP&FM Team Lead Andreas Eckel in his session moderation. "Today however, we mean to stress cooperation. We are here to showcase the joint research that is already happening on a European level."
What followed was an impressive review of the scenarios that are already possible in experimental setting, and that may soon hit the road when the good collaboration continues. Apart from the technical innovations, joint European values such as sustainability, safety and ethics dominated the discussion.
Future mobility: smart, shared, green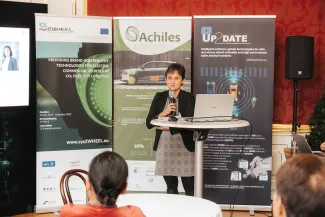 TTTech Group Senior Innovation Projects and Funding Manager Dr. Anna Ryabokon introduced the EC-funded project AIthena, which is about to kick off with 17 partners from seven countries. Connected,  Cooperative and Automoted Mobility (CCAM) is one of the major trends advancing mobility towards a more connected and greener world. One of its key enablers is Artificial Intelligence (AI). However, in order for the technology to gain a broader acceptance, the AI must be trustworthy, fair and unbiased– which is not always the case, currently. The project aims to develop AI-based human-centered methodology  for CCAM  development and testing frameworks, focusing especially on robustness, privacy, explainability, accountability, and ethics.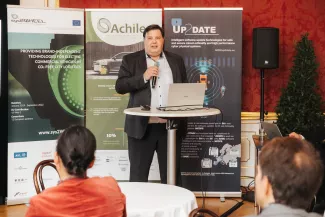 Another EC-funded project in shared mobility is the on-going AI4CSM project, uniting 41 project partners in ten European and non-European countries, including India. The project was presented by Jochen Koszescha, Senior Director Funding Projects & Coordination at Infineon. Its vision is to build Europe's intelligent electronic component and systems for ECA2030 vehicles supporting European mass market production, manufacturability and scalability based on the Green Deal principles. The solutions developed within the program's six objective will address the central trends: electrification, standardisation, automatization, and digitalisation.
The sys2WHEEL project was presented by Bernhard Brandstätter, Head of Department "Energy Efficiency and Human Centered Solutions" at Virtual Vehicle Research GmbH Graz. It was started in 2019 in response to the EC's Green Vehicle call. Its goal is to provide brand-independent technologies and solutions for the 3rd generation of fully battery-electric commercial vehicles fulfilling the needs of CO2-free city logistics. Production cost reduction, powertrain efficiency, affordability and user friendliness are essential to achieve broader public acceptance of electric vehicles and are therefore at the center of sys2WHEEL. One of the project's innovations  is an in-wheel solution for harvesting rotational energy from the car's wheels, which continuously powers sensors that are installed on the wheels. This allows the researchers to investigate for signs of tire wear. In line with the sys2WHEEL optimization approach, TTTech Auto provides TSN technology, which can significantly reduce the amount of cabling used inside the vehicle.
The EU's vision for ecological and economical mobility
By 2030, there will be at least 30 demonstration sites across Europe for user-oriented and well-integrated CCAM solutions. This was one of the goals presented by Dr. Stephane Dreher, Senior Manager Connectivity, Automation & Blockchain at ERTICO within the European Partnership on CCAM. Its other aims are to create a framework for R&I and large-scale testing activities, increase public awareness and address its societal impact. The partnership unites stakeholders around the research topic "smart systems and services for user-centered shared zero emission mobility of people and freight in urban areas".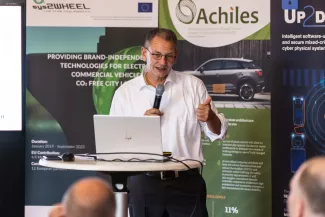 Dr. Max Lemke, Head of Unit Internet of Things at the European Commission, also identified servitization as one of the major trends in future mobility, supporting the central importance of smart, secure CCAM solutions. Other major trends include electrification, connectivity, and autonomy and – on a business level ­– the disruption of the traditional automotive value chain by "digital native" newcomers and startups.
"In 2030, 50% of vehicle manufacturing costs will be on electronics. If Europe loses control over the digital dimension of the future vehicle, we lose the value chain," Dr. Lemke, said in his keynote, in which he presented the EU's digital perspective on mobility. According to him, the only way for the European automotive ecosystem to meet future challenges is by working together in a pre-competitive environment on open software and hardware platforms and develop a joint "Car OS" approach, which would act as a bridge between the hardware and the application layer. Dr. Lemke also introduced the funding programs within KDT-JU and the coming Chips-JU as powerful innovation instruments supporting Europe's digital autonomy.
Collaboration enables success for business and planet
The future mobility landscape is as complex as it is exciting, and with increased digitalization, the number of players in the field increases in turn. How these players will interact with each other is up to us. If one were to identify a red thread in the many insights and perspectives offered at The Autonomous, it would probably be that collaboration is the glue that will put all the pieces in place, both from an environmental and from a business perspective. By joining forces in European research projects, partnerships will form that will determine if safe, clean and connected mobility will fail or succeed in the long run.
Download presentations from the event here.
Learn more: