September 22, 2009
TTTech Automotive, a TTTech subsidiary specialized in reliable automotive network solutions, has developed a reusable and modular safety layer that guarantees end-to-end communication integrity. TTXSafeCOM reduces development and certification costs by reusing a pre-certified common software component to ensure safe communication. It is part of the AUTOSAR communication stack but also supports non-AUTOSAR applications.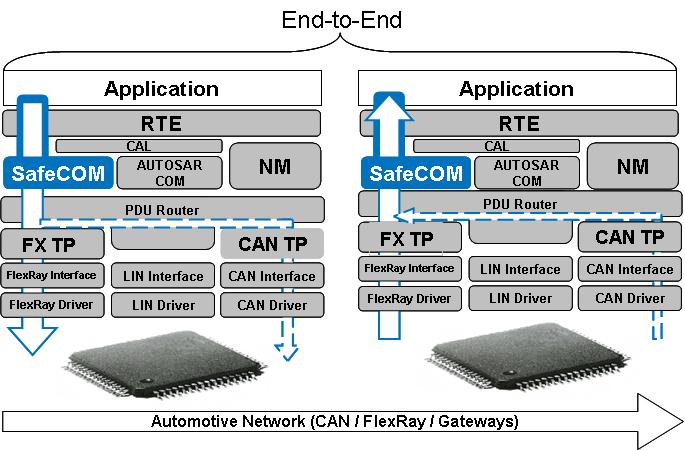 Due to the increasing number of safety-related functions in automobiles, the amount of electronic control units in them is also rising. Automotive electronic control units (ECUs) are connected using automotive bus systems such as CAN or FlexRay. Because of this distribution of functions, system safety depends more and more on the integrity of communication between ECUs. The safety of the system is classified according to Safety Integrity (SIL) levels.
TTXSafeCOM ensures end-to-end communication integrity by checking correctness of messages between applications. TTXSafeCOM is TÜV-approved and developed according to IEC 61508 for applications up to Safety Integrity Level (SIL) 3. Furthermore, it is fully compliant with the upcoming standard ISO 26262.
This pre-certified safety layer reduces costs for application integration. Costs for application development are lowered by offering the integration of a generic standard solution instead of an application-specific solution.
TTXSafeCOM can be used in different ECUs for powertrain on chassis applications to provide a coherent solution for one OEM with less integration effort. Tier-1s can apply this solution across families of ECUs which are used at different OEMs.
The interfaces of TTXSafeCOM meet the specifications of AUTOSAR but also support non-AUTOSAR applications. The solution is application-independent and can be applied universally.