At the root of everything
Sustainability is a megatrend with truly all-encompassing consequences. In a world struggling to decelerate global warming, sustainability must be the basis for all new technological developments.
It is a prerequisite of economic success. Only by fostering sustainable practice and operation can we make sure that the progress we make will be here for future generations to enjoy.
In the United Nations Sustainable Development Goals (UNSDGs), technology plays a key role. Technology can make us more efficient and productive and help us reduce resource consumption. It allows us to harness sustainable mobility and energy production and bring these technologies to remote corners of the world. All new technological advancements in turn must meet sustainability standards and shifts towards more sustainable practices must be implemented along the whole value chain. The greatest changes, however, must take place in people's minds. Sustainable practice does not only encompass our natural environment, but also our social and economic systems in which we must foster diversity and inclusion to solve this challenge together.
Sustainability is deeply intertwined with TTTech's core industries – from finding new and eco-friendly ways of producing energy to saving resources in industrial supply chains or expanding sustainable mobility. In our growth policy too, we are convinced that sustainable growth is possible, not just based on responsible financial handling, but also on boosts in innovation and productivity, that go hand in hand with the development of new technologies.
Digital solutions for the energy sector
Renewable and efficient energy is vital when it comes to facing the challenges of global warming.
Digital technologies can make energy systems around the world safer, more connected, intelligent, efficient, reliable, and sustainable. They can help us identify who needs how much energy, when, and where, and make it possible to store, distribute and redistribute energy in accordance with those needs while keeping an eye on the cost. According to the International Energy Agency, investment in digital technologies by energy companies has risen sharply over the last few years. For example, global investment in digital electricity infrastructure and software has grown by over 20% annually since 2014, reaching 47 billion US dollars in 2016. 
Towards electric, shared mobility
There are two key trends that can be seen to advance sustainable mobility: electrification and automation.
According to McKinsey, electric vehicles sales in the US have climbed by more than 40 percent a year since 2016. By 2035, the largest automotive markets will be fully electric. Already, the e-hailing or e-scooter industries are booming. The advent of autonomous driving and increased connectivity also means that car sharing may become much easier in the future. Instead of locating a shared electric vehicle, future autonomous vehicles may autonomously come to their users, reducing parking times and traffic congestion because of the reduced total number of vehicles needed.
McKinsey sees the most rapid acceleration of investment in advanced air mobility, especially flying taxis, displaying an exponential rise over the past two to three years—with more than 8 billion US dollars total invested (as of June 2021). These air taxis would be completely electric and provide an ecofriendly addition to urban mobility over short distances. They could be in operation as early as 2030.
For long-distance flights where full electrification is not currently an option, aviation companies are increasingly looking into both fuel-efficiency and alternative, sustainable fuels. Digital technologies can help optimize the flight trajectory in such a way that fuel consumption can be reduced. Optimizing on-board computer networks can also lead to a reduction of CO2 emissions in the production process, because less cabling is used.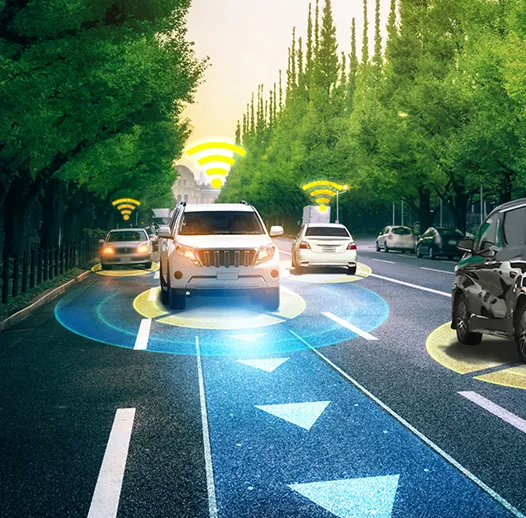 Autonomous mobility
Research and innovation for collaborative, sustainable solutions in autonomous mobility was presented at The Autonomous in 2022. The future of mobility is smart, shared, and green, as is currently demonstrated in several research projects funded by the European Commission.
The digital, green agricultural revolution
In agriculture, smart machines may soon become ecofriendly alternatives to pesticides or herbicides.
Scanning the soil and crops with the help of sensors and cameras, they can locate unwelcome pests and weeds or tell when plants are affected by diseases. Farmers can monitor all this remotely, making some elements of future farming more akin to an office job. Even livestock can be monitored remotely, which helps prevent illness and accidents among cattle. With growing precision and connectivity, resources and land use in agriculture can be optimized, reducing both the negative impact on the planet and costs for farmers at the same time.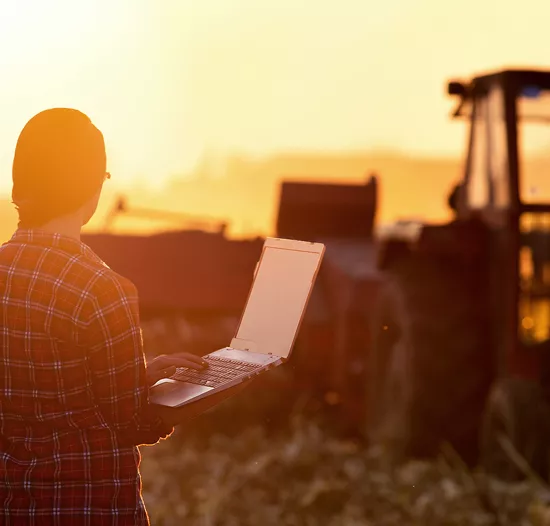 Precision farming
Smarter tractors
In the framework of the EU-funded research project AFARCLOUD, a virtual terminal was developed to turn an ordinary tractor into an intelligent tractor. Equipped with the plug-and-play solution that uses TTControl's Vision 3 display, the machine can scan the land and develop a digital map that identifies problems with crops, soil-, or water quality. Solutions like this can introduce more sustainable digital farming practices to a wider range of users, because they can upgrade their existing machinery without having to invest in a costly new tractor. 
IIoT solutions conserve resources in manufacturing
The Industrial Internet of Things (IIoT) is key when it comes to making production more sustainable.
A steady data stream constantly collects information from a machine, plant or even several plant locations that can then be analyzed and used to optimize processes. The concept of predictive maintenance, enabled by digital technology, makes it possible to service machines before they can break down and have to be replaced. Another buzzword is Zero Defect Manufacturing, a concept which stands for maximum flexibility, efficiency and resource-optimization achieved by digital means that will effectively make defective product a thing of the past. Before a product is even manufactured however, it is possible to test the production process in a perfect virtual clone, called a "digital twin", so no resources are wasted on tests at all.