May 23, 2007
TTAutomotive, TTTech's subsidiary for FlexRay solutions, has released in cooperation with Fujitsu Microelectronics Europe (FME) a new CPU board based on Fujitsu's MB91F465XA with an integrated FlexRay communication controller for its modular TTXPowerlink product family. The combination of Fujitsu's latest FlexRay microcontroller unit and TTXPowerlink's modular concept provides a flexible and effective solution for FlexRay applications in the automotive industry.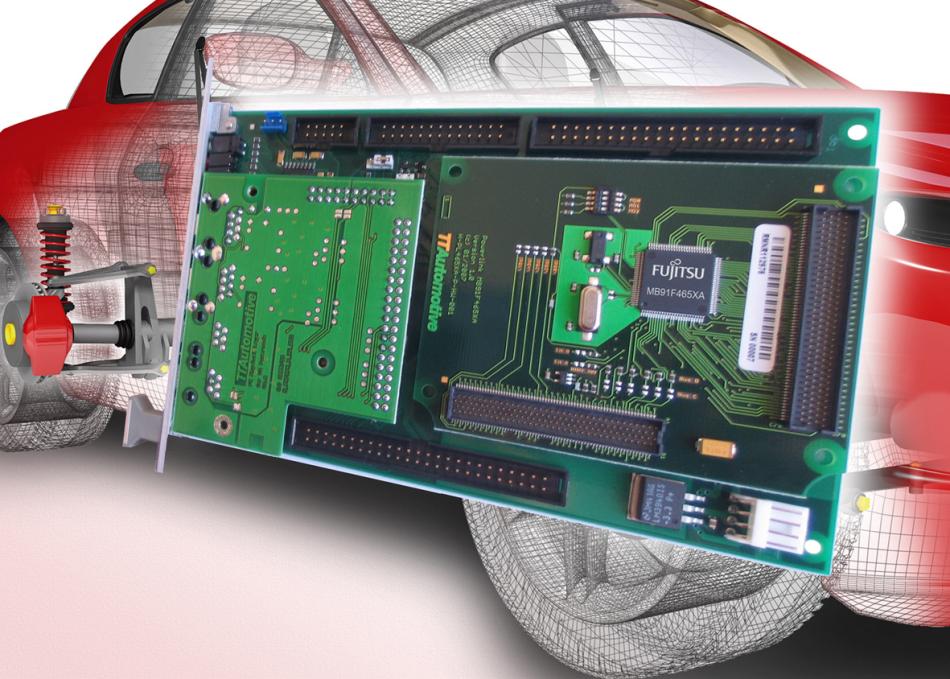 The CPU board provides access to the FlexRay network and is equipped with Fujitsu's MB91F465XA, a 32-bit microcontroller that features an embedded FlexRay communication controller. This controller is a single-chip solution that makes it possible to benefit fully from the advantages of the FlexRay protocol, such as precise synchronization throughout the system and reliable, deterministic data transport at high bandwidth. The MB91F465XA features Fujitsu's RISC core running at a maximum speed of 100 MHz. The integrated FlexRay communication controller, based on the E-Ray IP from Bosch, supports the FlexRay protocol specification 2.1 and handles two channels at a maximum transmission rate of 10 Mbit/s.
Based on Fujitsu's MB91F465XA with an integrated FlexRay communication controller, TTAutomotive´s new CPU board is part of the modular TTXPowerlink hardware solution for the development of FlexRay-based systems. It is fully stackable to allow the combination of the CPU board with different main boards, transceivers or specific interface solutions.
TTAutomotive plans to extend this product line by releasing a board specifically designed for physical layer and FlexRay network tests, which allows the configuration of board parameters such as termination resistors, split grounding values, capacitive load and ESD protection. Furthermore, the TTXPowerlink product range will include electronic control units for prototyping, FlexRay-CAN gateways and an active star for FlexRay.
"Through this cooperation we are looking forward to providing a very flexible first-class solution for FlexRay applications based on Fujitsu's microcontrollers," commented Wolfgang Wiewesiek, manager of the automotive business unit at Fujitsu Microelectronics Europe. "By combining the modular concept of TTXPowerlink with Fujitsu's MB91F465XA, the solution has the potential to contribute to major FlexRay projects in Europe and Japan."
Both companies are members of the FlexRay Consortium and are actively involved in creating a comprehensive portfolio of FlexRay solutions. It is TTAutomotive's mission to advance the use of time-triggered technology based on the FlexRay standard. Fujitsu's 'FlexRay Made Easy' program delivers complete system support for FlexRay-based applications. The company offers development packages including all necessary hardware and software, as well as the development tools and support required for launching FlexRay projects.
About Fujitsu Microelectronics Europe
Fujitsu Microelectronics Europe (FME) is a major supplier of semiconductor products. The company provides advanced systems solutions to the automotive, digital TV, mobile telephony, networking and industrial markets. Engineers from design centers dedicated to microcontrollers, graphics controllers, mixed-signal, wireless, multimedia ICs and ASIC products work closely with FME's marketing and sales teams throughout Europe to satisfy customers' system development requirements. This solutions approach is supported by a broad range of advanced semiconductor devices, IP and building blocks.
Further information on the company is available at emea.fujitsu.com/microelectronics.
Jim Bryant
Director Marketing Communications
Fujitsu Microelectronics Europe GmbH
Pittlerstrasse 47
D-63225 Langen, Germany
Tel.: +49 (0)6103 69 00
Fax: +49 (0)6103 69 01 22
E-mail: jim.bryant@fme.fujitsu.com